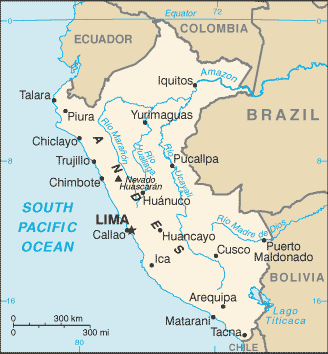 An unprecedented—and completely unexpected—campaign for medical marijuana in Peru has been paradoxically sparked by a police raid on a collective n Lima last month. What local media accounts luridly called a "clandestine laboratory" in the capital's San Miguel district was busted by National Police in the pre-dawn hours of Feb. 8, and five kilos of cannabis confiscated along with equipment. Turns out it was the hash-oil facility of a collective known as Buscando Esperanza (Seeking Hope)—made up mostly of mothers who were producing the oil for their offspring suffering from cancer, multiple sclerosis, epilepsy and the like. One of the moms, Ana Álvarez, has now emerged as Peru's national voice of medical marijuana.
Álvarez says she helped produce cannabis oil for her son Antony, 17, who suffers from tuberous sclerosis. Before he began using cannabis oil, he suffered from five or six seizures every day, Álvarez says. Now it is down to one or two. "With these drops, my son has his life back," she told Peru's leading daily La República, pleading for the government to establish a medical marijuana program and registry.
Buscando Esperanza was established with aid from Mamá Cultiva and Fundación Daya, the groups that are developing the medical marijuana program in neighboring Chile.
The campaign is stirring much debate and media coverage in Peru—precisely because the raid on Buscando Esperanza sparked public outrage. Immediately after it happened, President Pedro Pablo Kuczynski's cabinet began developing draft legislation for a medical marijuana law. The bill is expected to be introduced soon, although it may face a challenge in the opposition-controlled Congress.
Cross-post to High Times
Graphic: US State Department