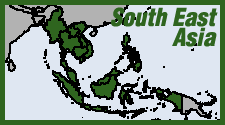 There was recently a sign that the Philippines' ultra-hardline President Rodrigo Duterte was going to rein in his murderous police in the face of mounting international criticism of their harsh anti-drug crackdown. It took the police killing of a foreign business executive, but Duterte finally pledged that he would disband and reorganize the National Police narco units. But human rights observers may have rejoined too soon. On Jan. 31—just one day after his announcement of the police overhaul—Duterte made a speech to army generals, telling them that while the police were off the drug war beat the armed forces would have to step in to replace them. Rather than taking a step back from the brink, it looks like the Philippines could be following the grim examples of Mexico and Colombia of turning the drug war into a real war, run by the military.
Duterte also said the military would be empowered to arrest "scalawag cops," saying that the National Police force that he was so recently unleashing against the druggies is "corrupt to the core."

The Defense Ministry responded to Duterte's speech by issuing a request for "an official order regarding this presidential directive to serve as a legal basis for our troops to follow." If this is forthcoming, the Philippines could be well on its way to a wholesale militarization of society.
Making it doubly ominous, this development comes just as Duterte announced that he is breaking his ceasefire with the leftist guerillas of the New People's Army. Duterte instated the ceasefire upon taking office last year, in a bid to restart long-stalled peace talks with the guerillas. But on Feb. 3, after new fighting with the insurgents at various locations on southern Mindanao island left six soliders dead and three abducted, Duterte said he is ordering troops to take the field against the NPA again. "I am asking the soldiers: Go back to your camps, clean your rifles and be ready to fight," he said, adding that there would be no peace with the NPA for a generation.
He also said, "From now on I will consider the CPP-NPA- NDF a terrorist group"—using the acronym for the rather unwieldy formal name of the guerilla movement, the Communist Party of the Philippines-New People's Army-National Democratic Front.
Especially given accusations that the NPA are funded by the illegal drug trade—for instance, by protecting marijuana plantations—the Philippines could be poised to follow Colombia into a multi-generational war against "narco-terrorism."
Cross-post to High Times