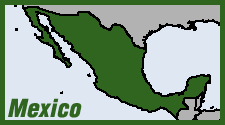 The case of 43 college students from the Mexican village of Ayotzinapa who disappeared in September 2014—and were allegedly murdered by a local narco-gang—continues to elicit outrage. Now, the parents of the missing students held a cross-country mobilization for justice in the case, arriving in Mexico City on Christmas Day.
The "Caravan for Memory and Hope" departed from southern Guerrero state five days earlier. On Dec. 26, a special mass was held at the city's historic Basilica de Guadalupe in honor of the missing students, overseen by the Bishop of Saltillo, Raúl Vera, and the Archbishop of Morelia, Carlos Garfias—both well-known for their advocacy for Mexico's poor and oppressed.
An attorney for the parents, Vidulfo Rosales, told a reporter from EFE news agency that the mass was "tense due to the humiliating treatment on the part of the authorities of the Basilica."

The parents are demanding an audience with the office of the Prosecutor General of the Republic (PGR) to discuss the case. The government maintains that the students were detained by local police in the Guerrero town of Iguala before being handed over to members of a local narco gang, who killed them and incinerated their bodies in a canyon. But the families of the disappeared students increasingly charge the government with a cover-up of the role of federal police or military forces in the affair.
So far there has been no reply from the PGR on the parents' request for an audience. But testifying before Mexico's congress on the case, President Enrique Peña Nieto said that 46 troops from the army's 27the Battalion, stationed in Guerrero, have been questioned in the investigation. He added that a Dominator XP drone has been deployed to scan the Guerrero countryside for signs of mass graves or other evidence, according to a report in Excelsior newspaper.

However, Rosales is not impressed. He told TeleSur that the lack of progress in the case after 27 months shows "little good faith on the part of the federal government, which is betting on forgetting and impunity."

Cross-post to High Times