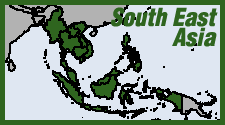 The Philippines' ultra-hardline President Rodrigo Duterte on Dec. 3 said that US president-elect Donald Trump has endorsed his bloody anti-drug crackdown—which has claimed an estimated 3,000 lives since he took office in June. A statement release by Duterte's office, the president said: "He understood the way we are handling it and I said that there's nothing wrong in protecting a country." He called the conversation "very encouraging, in the sense that I supposed that what he really wanted to say was that we would be the last to interfere in the affairs of your own country... He wishes me well...in my campaign, and said that...we are doing it as a sovereign nation, the right way." The statement added that Trump was "quite sensitive...to our worry about drugs."
A a video released by a Duterte aide showed the Philippine leader smiling while talking to Trump on the the phone, and saying: "We will maintain...and enhance the bilateral ties between our two countries." The rest of the conversation was not aired in the video, and Trump has thus far had no comment on Duterte's portrayal of it.
The Philippine Star portrays the exchange as a move by Trump to woo Duterte back into the US orbit, and especially away from China. The commentary recalls that Obama canceled what could have been their first formal meeting at an Asian summit in Laos in September after Duterte unleashed an expletive-laden warning for the US leader not to lecture him on human rights. In one speech, Duterte told Obama to "go to hell." Since then, Duterte has sought support from Beijing for his draconian anti-drug campaign.
Duterte does face growing opposition at home as his outrages against decency mount. The Philippine Star reports that even erstwhile Duterte allies in the Philippine congress were dismayed when the president ordered National Police chief Gen. Ronald "Bato" dela Rosa to reinstate Marvin Marcos as a regional superintendant of the elite Criminal Investigation and Detection Group (CIDG). Marcos was suspended after leading a CIDG unit that was involved in the jailhouse slaying of Rolando Espinoza, the mayor of Albuera town in Visayas region who had been arrested on drug charges. The unit was ostensibly serving a search warrant on his jail cell when he was killed in the Nov. 5 incident. Authorities call the incident a shoot-out, but some senators say there is no evidence of an exchange of fire and it seems more like a "rub-out."

A stand-off at Albuera in August ended in Espinoza's arrest, but only after several of his bodyguards had been killed by security forces. The affair has fueled speculation that Duterte's crackdown really masks a struggle for control of the country's narco trade. Tweeted Sen. Panfilo "Ping" Lacson: "I thought it was an all-out drug war I was supporting.... Talk about double-speak. Change isn't coming after all."
Cross-post to High Times