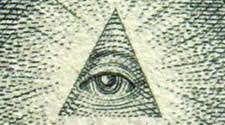 Officials and civil rights advocates in Baltimore are expressing outrage over revelations that a private company has been conducting secret aerial surveillance on behalf of the city's police department—collecting and storing footage from neighborhoods, with no public oversight. Ohio-based Persistent Surveillance Systems has for months been testing sophisticated new cameras afixed to a small Cessna flying over the city, according to an Aug. 23 report in Bloomberg Businessweek, which was given exclusive access to the testing program. Police the following day confirmed the program to the Baltimore Sun, admitting to having collected some 300 hours of surveillance this year.
Speaking to the paper, department spokesman T.J. Smith took issue with characterization of the program as "secret surveillance," suggesting there was no need for the department to make it public. He portrayed the program to an expansion of the city's existing CitiWatch system of street cameras. "There was no conspiracy not to disclose it," he said. "We consistently go out and get ourselves involved in new technology, find different ways to bring that technology to Baltimore."

Elected officials don't see it that way. "I'm angry that I didn't know about it and we did it in secrecy, which is unacceptable," said City Councilman Brandon Scott. "We have to be transparent about it and we have to make sure that we're using it in the right way, especially given all of the things that have come out about the Police Department," he added, in an implicit reference to the recent police brutality outrages. But Scott, vice chair of the council's Public Safety Committee, doesn't want to shut the program down. "A lot of Black people have asked for CCTV surveillance in their neighborhoods," he said.

David Rocah, staff attorney with the American Civil Liberties Union of Maryland, was less forgiving. "The fact that the city of Baltimore thought that they could adopt it in secret with no public input is beyond astounding," he said. Rocah added that the technology is "virtually equivalent to attaching a GPS tracker to each and every one of us every time we walk out of our house or office building."
Cross-post to High Times
Photo by Hammer51012