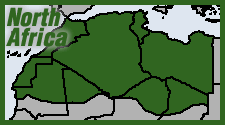 According to the latest World Drug Report (PDF) released by the UN Office on Drugs and Crime (UNODC), Morocco remains the planet's top producer of "cannabis resin" (hashish), followed by Afghanistan, Lebanon, India and Pakistan. Massive seizures continue to be regularly reported. As this month opened, security forces announced confiscation of over 4,000 tons of "cannabis" (probably hashish rather than unprocessed herb) at El Guergarat crossing on the border with Mauritania. (Moroccan news accounts did not mention that this is actually not in Morocco but in the Moroccan-occupied territory of Western Sahara.) The stash was hidden in a truck headed across the border; the driver was arrested and an investigation opened into a possible trafficking network linking Morocco to exit ports in West Africa.
But an initiative to undercut the underground networks by "legalziing" in the North African kingdom is gaining ground—and activists have launched a push to actually get it done this year. The "Maroc Cannabis 2016" campaign wants to legalize cultivation and turn it into a taxable industry. A report on Morocco World News notes that cannabis cultivation has been an agricultural mainstay in the kingdom's Rif Mountains at least since the 15th century. For the Rif region's estimated 48,000 peasants and farm laborers, legalizing cultivation could alleviate poverty and create a new above-gournd economic sector, campaigners say. Chakib al-Khayari, an activist in the Rif, said "the ultimate goal is to develop the Rif region and fight against illicit trafficking."

Startlingly, the account quotes an (anonymous) representative of the Ministry of Health, who seemed open to the proposal: "The production of cannabis is undoubtedly an income generating activity. Legalizing its production and consumption will contribute to the Moroccan GDP by more than 4.5 percentage points per year."

The campaign's aims are actually modest. The proposed legal reform (at least for starters) would not legalize the recreational consumption of cannabis, but its production for use in medicine, textiles, and other materials. In other words: industrial hemp and medical marijuana—not true legalization as in Colorado or Uruguay.
Still, even this is ambitious in the traditionally conservative kingdom. The Party of Authenticity and Modernity and the Istiqlal Party, two opposition parties that years ago embraced the quasi-legalization initiative, have now submitted legislation to parliament. But the Islamist political parties, a growing power bloc in Morocco, are adamantly opposed.
Cross-post to High Times