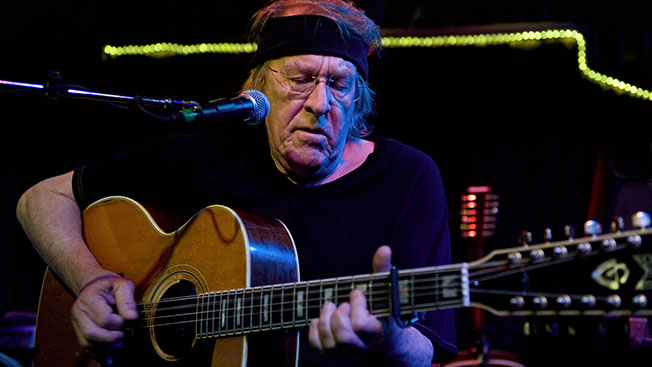 Paul Kantner, co-founder of the Jefferson Airplane and a pioneer of the San Francisco music scene in the 1960s, died Jan. 28 at the age of 74. He had suffered a heart attack earlier in the week, according to his longtime publicist and friend, Cynthia Bowman.
As singer, rhythm guitarist and song-writer as well as political visionary, Kantner guided the band from its folk-rock origins through its period as a pre-eminent symbol of the counterculture and youth rebellion, climaxing with the Monterey Pop festival that kicked off the 1967 "Summer of Love," its classic early-morning performance at the utopian-spirited Woodstock festival in August 1969—and that December's disastrous and violence-plagued Altamont Speedway free concert.

The band had a rebirth in the 1970s, with a new line-up and more radio-friendly sound, as the Jefferson Starship, including fellow Airplane hold-overs Marty Balin and Grace Slick, Kantner's flamboyant and contentious lover. He continued to perform with various outfits in later years, including a re-formed version of the Starship and a briefly reunited Airplane in 1989. Kantner and his Airplane bandmates were inducted into the Rock and Roll Hall of Fame in 1996. He continued to be a vocal advocate for political causes, from cannabis legalization to support for the Nicaraguan revolution during the 1980s.
While his fellow bandmates all moved out of the city eventually, Kantner continued to live in San Francisco, and was a regular fixture at the Caffe Trieste in North Beach, according to his obituary in the Chronicle. San Francisco gay community leader and cannabis advocate Dennis Peron once told this writer how Kantner joined in with the street-fighting during the 1979 White Night riots that followed the lenient sentencing in the assassination of the city's progressive mayor George Moscone and gay supervisor Harvey Milk by conservative ex-supervisor Dan White.

Kantner is survived by three children: sons Garet, a film producer, and Alexander, a musician; and daughter China, an actress and former MTV video-jockey.

Image: Showbiz 411