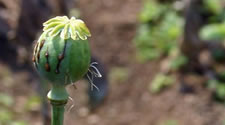 Opium poppy cultivation in Afghanistan decreased 19% in 2015, compared to the previous year, according to the latest Afghanistan Opium Survey figures released Oct. 14 by the Afghan Ministry of Counter Narcotics and the UN Office on Drugs and Crime (UNODC). The area under poppy cultivation in 2015 is estimated to be 183,000 hectares, compared with 224,000 in 2014. This marks the first time the area under cultivation has decreased since 2009. Indeed, in 2014 and 2013, record-breaking highs in opium production were reported. "I hope the survey will serve to inform policies and efforts to build on these hard-won achievements," said UNODC executive director Yury Fedotov. He added that sustaining progress "depends on the resolve of the Afghan Government, and on the international community, which must devote the needed resources and make a long-term commitment to addressing a threat that imperils all our societies."
The 2015 Survey puts potential opium production in Afghanistan at 3,300 tons, a 48% decrease from its 2014 level of 6,400 tons. Despite these decreases, the number of poppy-free provinces fell in 2015, with northern Balkh losing that status, which it had regained in 2014. Helmand, with some 86,400 hectares, remains the country's major opium-cultivating province (and, hardly coincidentally, a key Taliban stronghold). This is followed by Farah and Kandahar (both in the Taliban heartland of the south).
The UNODC press release says the drop in production "can be attributed to a reduction in area under cultivation, but more importantly to a drop in opium yield per hectare. " It doesn't offer an explanation for the lower yields. For this you have to go to the actual text of the Survey (see PDF): "Reports from the field...pointed towards a lack of water, which may have affected field quality and thus yields." Growing aridity is not exactly good news. In any case, the reduction in yields appears wholly unrelated to eradication efforts. These efforts cost five lives in 2015, with 18 injured. (These were all members of the Afghan security forces; the report doesn't make clear if there were civilian casualties.) This is also a drop from 2014's 13 dead and 26 injured.
Another factor not mentioned by the Survey is the reported burning of opium fields by ISIS, which is trying to gain a foothold in Afghanistan by stigmatizing the rival Taliban as tainted by the drug trade. When they were in power, the Taliban vigorously cracked down on hashish and opium, but now use them to the fund their insurgency. ISIS, making an estimated $10 million per month in black-market oil sales from fields it controls in Iraq and Syria, has pretty clearly been subsidizing its Afghan franchise, affording it the privilege of not getting its hands dirty with opium.
If Afghan opium declines as a result of desertification and the rise of ISIS, it will be the very definition of a Pyrrhic victory.
Cross-post to High Times
Photo by Tennessee Wanderer