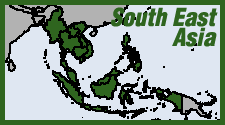 Amnesty International on Oct. 15 released a report finding that Death Row inmates in Indonesia are routinely beaten and coerced into confessions, and denied the right to counsel. President Joko Widodo's government has executed 14 prisoners since he took office in October 2014—all for drug charges. According to the report, dubbed "Flawed Justice," in half of the 12 cases Amnesty analyzed, prisoners said their "confessions" were extracted by torture. One Pakistani man, Zulfiqar Ali, was held incommunicado at a private house for three days as police brutalized him. He was beaten so badly he required kidney and stomach surgery—but his confession was still used against him in court. No other independent investigation into the heroin charge against him was carried out. Amnesty is urging Indonesia to instate a moratorium on the death penalty and create an independent body to review Death Row cases.
The Widodo administration remains intransigent. In June, a Jakarta court denied the clemency appeal of a French citizen sentenced to death on a drug trafficking charge. In April, Indonesia executed by firing squad eight drug convicts, including two Australians who were part of the famous "Bali Nine." In February, Christof Heyns, a special rapporteur on extrajudicial executions with the UN Office of the High Commissioner for Human Rights, urged Indonesia to halt all executions on drug-related offenses. (AI, Jurist, Oct. 15)
The executed members of the Bali Nine have been honored by the press in their native Australia. Myuran Sukumaran was hailed for his Death Row paintings, and the art classes he ran for fellow prisoners. Andrew Chan was praised for establishing a Christian ministry with the History Maker Church at Bali's Kerobokan prison, which continues after his death. (Sunshine Coast Daily, Oct. 14; SMH, Oct. 2)
Barrister Julian McMahon is a finalist for the 2016 Australian of the Year award for his legal work on behalf of the Bali Nine. (ABC, Oct. 9)
British grandmother Lindsay Sandiford remains on Death Row—while the accused leader of the cocaine ring she was apparently caught up in, Paul Beales, beat his rap due to a botched trial. He just got four years for cannabis possession, and is today a free man. An outraged Daily Mail spoke to him Oct. 17 in Bangkok, where he went for a golfing trip after getting sprung from Kerobokan prison.