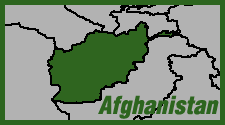 Fighters loyal to ISIS have seized substantial territory in Afghanistan, according to an ominous Reuters report June 29. Witnesses who fled fighting in Nangarhar province told reporters that hundreds of ISIS fighters in convoys of pick-up trucks mounted with machine guns seized several villages—and put local opium fields to the torch. "They burned poppy fields in Shadal village and banned shops from selling cigarettes," said tribal elder Malek Jan. Taxing opium production is a key source of Taliban revenue, but Reuters reports that ISIS loyalists in Nangarhar appeared to have other sources of money. Witnesses said they had plenty of cash. It is unclear where the money is coming from, but it frees ISIS to stigmatize the Taliban as soft on drugs.
The Taliban are talking tough against these upstarts. "They are thieves and thugs ... We will soon clear those areas and free the villagers," said Taliban spokesman Zabihullah Mujahid. But Jan said some villagers welcomed ISIS. "Unlike the Taliban, they [ISIS] don't force villagers to feed and house them. Instead, they have lots of cash in their pockets and spend it on food and luring young villagers to join them." Again, not thusly burdening the villagers seems to be an indulgence afforded ISIS by someone's largesse. We'd sure like to know whose.
The US has apparently taken note of the growing ISIS persence. Reuters reported June 28 that the US carried out air-strikes on unnamed "militants" in Nuristan and Paktika provinces. Paktika was named as a stronghold of the Taliban-aligned Haqqani network. But the report also noted that "support for ISIS...has spread and the group is exapnding its contingent of foreign fighters and disenchanted Taliban militants."
Cross-post to High Times