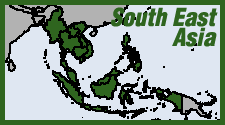 A US citizen was among a trio arrested in Burma for running a 20-acre cannabis plantation. The three could face life in prison, or even the death penalty. But the controversy could give new political energy to Burma's emergent legalization movement.
Southeast Asia has traditionally been the part of the world with the harshest cannabis laws. But over the past year, activist efforts have started to pay off, spurred by outrage over particularly egregious injustices. Some countries in the region are taking steps to open legal space for medical use, at least. Burma, only tentatively emerging into democracy after a generation of military rule, has not been among them. But it may now be getting its chance.

Last week saw the police raid of a 20-acre outdoor cannabis plantation near Mandalay, the historic city in central Burma. Authorities had apparently been alerted when photos of the grow were posted on Facebook by an activist group called the Mahar Legalization Movement Myanmar. The Mahar group (from the Burmese word for "great") approvingly captioned the photos an "industrial hemp plantation." But Burma's law makes no distinction between hemp and marijuana. "We took action as soon as we saw the post on Facebook," a police representative told the New York Times by phone.

And the affair won perhaps more international coverage than authorities wanted when it proved that one of the men arrested in connection with the grow was a US citizen.

Legal confusion
Those arrested in the raid were named as US citizen John Fredric Todoroki, 63, and two Burmese nationals, U Shein Latt, 37, and Ma Shun Le Myat Noe, 23. A second American wanted in connection with the grow, Alexander Skemp Todoroki, 49, is said to still be at large. Media reports are unclear how the two Todorokis are related.

Burma's Central Committee for Drug Abuse Control said that 350,000 cannabis plants, 270 kilograms (600 pounds) of harvested marijuana, and 380 kilos (840 pounds) of seed were seized in the raid. along with agricultural chemicals and implements. The plantation was apparently on land leased in the name of III M Global Nutracetical Company in Myotha Industrial Park, in the town of Ngazun, Myinchan District, Mandalay Division.

Industrial park management said the leasee had a document from the Mandalay regional government, dated last August, giving permission to cultivate and export "medicinal hemp," according to the Times account. If so, the document is not being honored by the national authorities. The three each faces charges of "production or distribution of psychotropic substances for sale," carrying a 15-year minimum sentence. But prosecutors could push for life imprisonment or even the death penalty. They additionally faces charges of "cultivation of narcotic or psychotropic substances, carrying a five to 10 year term, and "drug trafficking," punishable by a 10-year minimum sentence.
Daw Ni Ni Aye, director of Burma's Food & Drug Administration (FDA), who visited the plantation site after the raid, shed some light on the legal situation. She told The Irrawaddy newspaper that the industrial park manager "said the plantation was set up to do research for medicinal purposes, to cure cancer. For that they will need permission. Now, we found they are producing oil from the plants."

However, lacking that permission, she said the matter "is out of the FDA's hands; it has not become medicine yet, so the anti-narcotics team is handling it."

Aung Say Toe, founder of the Mahar legalization group, is urging the government to respect the defendants' right to conduct cannabis research. "They are not cultivating secretly," he told the Times. "Everyone could see it, and that's why we could take photos and video of the plantation."
The attorney for the arrested men, Thein Than Oo, also asserted that John Fredric Todoroki and III M Global Nutraceutical had received official permission for their grow op. "This company rented the land and is running its laboratory officially," he told the
Associated Press
. "Their intention is to do research, not to sell or distribute. If their research goes well, they will work with the government."
Will Burma blink?

The fact that there is any legal ambiguity here at all in traditionally authoritarian Burma means this could become an important test case. The past year has seen some significant openings for cannabis in South and Southeast Asia.
The most recent such development came in December, when Thailand's National Legislative Assembly
voted unanimously
to legalize medical marijuana. Strangely enough, this first country in Southeast Asia to liberalize cannabis policy has been under a military junta since a 2014 coup d'etat, with powers curtailed for the Legislative Assembly.
This followed Malaysia's surprise announcement in October that it will abolish the death penalty—a direct response to global outcry over the death sentence meted out to a provider of medicinal cannabis oil. The bad news is that seven month later, this still hasn't happened—hardliners in the government have proposed a compromise of allowing judges discretion in whether to impose the death penalty. Rights advocates in the country are not happy. "The reversal of the earlier decision is shocking, unprincipled and embarrassing," N. Surendran, advisor to Malaysian rights group
Lawyers for Liberty
,
said last month
.
The good news, however, is that more tolerant voices in the government have
actually broached
legalizing medical marijuana.
A negative example is posed by the Philippines, where President Rodrigo Duterte's draconian "drug war" has resulted in
perhaps 20,000
extrajudicial killings by police and paramilitary forces since he took office in 2016. Amidst this bloodletting, a medical marijuana bill is actually pending in the Philippines—but Duterte, after some initial equivocation, now
says he opposes it
.
Alas, Duterte's grim example is being emulated by other leaders across the greater region. Sri Lanka
announced
last year that it will start hanging drug convicts, with leaders explicitly hoping to "replicate the success" of Duterte's bloody anti-drug campaign.
And in 2017, Indonesia imposed a "
state of emergency
" in response to a supposed crisis of illegal drug use, announcing a "shoot-to-kill" policy modeled on Duterte's. This is bearing grim fruit.
Human Rights Watch
last July issued a new report accusing Indonesian police of a "killing spree," with many drug suspects shot while already in detention. .
Finally, the UN High Commissioner for Human Rights last June issued a
statement
expressing alarm over the police killing of drug suspects in Bangladesh.
Burma is in some ways a special case, as it is a major source country for opium, and the struggle for control of the illicit trade has long fueled multiple internal armed insurgencies in the country's northern mountains. Burma's opium wars have continued despite the country's 2015 democratic opening. However, actvists are using the new political space to advocate for a more tolerant policy on poppy cultivation. In 2016, the country's Drug Policy Advocacy Group (
DPAG
)
issued a call
for a reform of Burma's drug laws as a means to de-escalate the violence in the north.
So after long years of rigid intolerance, progressive ideas on drug policy are, at least, entering mainstream discourse in Burma.
Cross-post to Cannabis Now