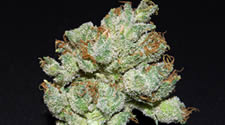 Seattle's The Stranger alterno-weekly reported Feb. 25 that immediately after the Seattle Times ran an editorial last week supporting a bill to tax and regulate cannabis, the newspaper got a phone call from White House Office of National Drug Control Policy director Gil Kerlikowske. The Drug Czar apparently wanted to fly to Seattle to talk personally the paper's full editorial board.
The meeting is apparently scheduled for next week, an evident attempt by the federal government to pressure Washington state's largest newspaper to oppose cannabis legalization. Bruce Ramsey, the Seattle Times editorial writer who wrote the un-bylined piece, said the White House called right "right after our editorial ran, so I drew the obvious conclusion… he didn't like our editorial."
"Marijuana should be legalized, regulated and taxed," the newspaper wrote in the Feb. 18 opinion. "The push to repeal federal prohibition should come from the states, and it should begin with the state of Washington."
This isn't the first time the Obama administration has campaigned to keep cannabis illegal. Kerlikowske, who is also Seattle's former police chief, also traveled to California last fall to campaign against Prop 19.
Photo: Themadpothead