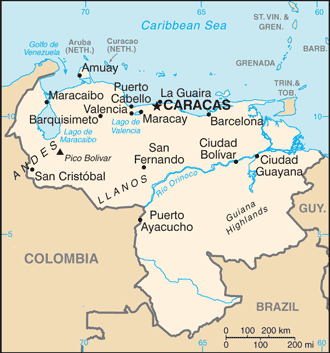 After a high-profile but very quick trial in a US federal court in Manhattan, two young scions of Venezuela's First Family were convicted on Nov. 19 of conspiring to traffick more than 800 kilograms of cocaine into the United States. The two men, Efraín Antonio Campo Flores and Francisco Flores de Freitas, are nephews of Cilia Flores—wife of Venezuela's embattled President Nicolás Maduro. The case came amid massive anti-government protests in Venezuela, and Cilia Flores charged that her nephews had been "kidnapped" by the DEA for political reasons. Popped just over a year ago in Haiti, they now face a maximum sentence of life in prison.
Although some of the DEA's informants who served as witnesses were pretty sketchy characters, themselves denizens of the narco-trade, the case seems to have been clinched by a video recording of a meeting in Honduras in which Flores de Freitas boasts that he could secure the presidential hangar at the Caracas airport to stash a private jet full of cocaine. In his closing statement, Assistant US Attorney Brendan Quigley told the jury, "The defendants thought they were above the law. They thought they could operate with impunity in Venezuela because of who they were and who they were related to."
Prosecutors also argued that the pair sought to procure the cocaine from Colombia's FARC rebels. Judge Paul Crotty turned down the defendants' request to bar prosecutors from introducing any references to the FARC as prejudicial. Prosecutors said the pair admitted to being in contact with a dealer known as "El Gocho," who oversees cocaine exports for the FARC.

But the planned flight from Caracas to Honduras never took place. Defense attorneys said the pair were the target of an unfair sting operation, and sought to supress evidence from their interrogation by DEA agents on the plane from Haiti. The judge didn't go for that one either, despite the claim that the men hadn't been read their rights, thought they were being kidnapped, and were "coerced" into talking.
A man named Roberto de Jesús Soto García has also been charged for his supposed role in the smuggling plot. He was arrested by Honduran authorities on the Caribbean coastal island of Roatan in late October, and the US is seeking his extradition. Honduran newspapers El Heraldo and La Prensa name the network behind the scheme as the "Cartel de Los Soles," said to be headed by such high-level figures in the Venezuelan government as former interior and justice minister Tarek El Aissami, who is now the governor of Aragua state.

The "Narco Nephews," as the pair have been dubbed by the press, will face sentencing in March.

Cross-post to High Times