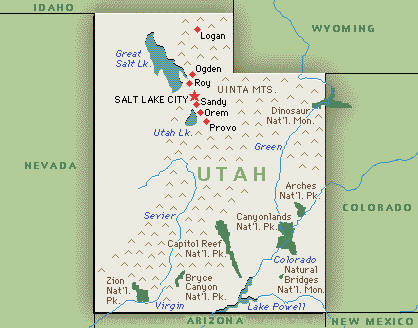 A medical marijuana initiative has won enough signatures to make the November ballot in Utah. But the state's medical association has launched its own campaign to oppose it—and is challenging the validity of the petition drive. With the governor also opposed, the initiative will face a tough fight.
Proponents of an initiative to legalize medicinal cannabis in the Beehive State have gathered an estimated 160,000 signatures from registered voters—more than the 113,000 necessary to qualify for the ballot in November. Last week, the Lieutenant Governor's Office announced that 117,000 of the signatures had been validated.

The Utah Medical Cannabis Act would allow qualified patients to obtain either herbaceous cannabis or cannabis-infused products from a state-licensed dispensaries. But getting it passed isn't going to be easy.
As Good4Utah news site reports, the Utah Medical Association is accusing organizers of misleading voters. It is calling on residents who were "unknowingly fooled" into signing the petition to contact their county clerks and the Lt. Governor, and demand their names be removed.
"This initiative is not about medicine," UMA said in a statement quoted by the Salt Lake Tribune. "Supporters have used images and stories of suffering patients to disguise their true aim of opening another market for their products and paving the way for recreational use of cannabis in Utah."
The statement also thanked Utah's Republican governor, Gary Herbert, for his vocal stance against the measure. UMA said it "unequivocally states its opposition to the current initiative and applauds Gov. Herbert for speaking out in opposition as well, fulfilling his role in protecting public health and safety."
The response was swift and unequivocal from supporters of the initiative. The personal-freedom advocates at the Libertas Institute charged that the UMA doesn't speak for all Utah doctors on the matter. "Many physicians have confirmed their interest in allowing their suffering patients to access medical cannabis," the group said. "Science isn't settled by a vote—whether the Legislature or the UMA board."
Getting the Mormon establishment on board with the initiative could make the decisive difference, and advocates have met with representatives of the Church of Latter-Day Saints to discuss the matter. Nathan Frodsham of Together for Responsible Use and Cannabis Education (TRUCE) confirmed to Salt Lake City's FOX 13 on April 2 he first met with LDS Church officials last year as a medical marijuana measure was being debated in the state legislature. He said that dialogue with church officials on the question is ongoing.
The Utah Patients Coalition, the umbrella group running the ballot initiative, also confirmed that it has met with church officials, but declined to comment further on the talks, FOX 13 said.
The effort was dealt w blow on the public relations front, at least, when a man and woman working for a private company to collect signatures both for the Medical Cannabis Act and another ballot initiatives were charged with forging names on the documents. An election clerk in Weber County uncovered the apparent forgeries when comparing signatures on the petitions to the voter roll. As the Salt Lake Tribune reported March 1, the pair worked for the firm Gather to collect signatures for the Medical Cannabis Act and the Count My Vote initiative (which would instate direct primary elections in Utah). They admitted they'd forged the names, according to court documents.

But only 472 forged signatures were found. So the Medical Cannabis Act is still in the clear for the ballot. And, as NORML notes, proponents of the measure still have two more weeks to collect additional signatures. The Gather affair is primarily a blow in terms of propaganda.

So it will be a hard fight. But if the Medical Cannabis Act can prevail even in conservative Utah, that will be a very salubrious sign for the growing elbow room for cannabis on the national stage.

Cross-post to Cannabis Now

Photo by GreenwichMeanTime