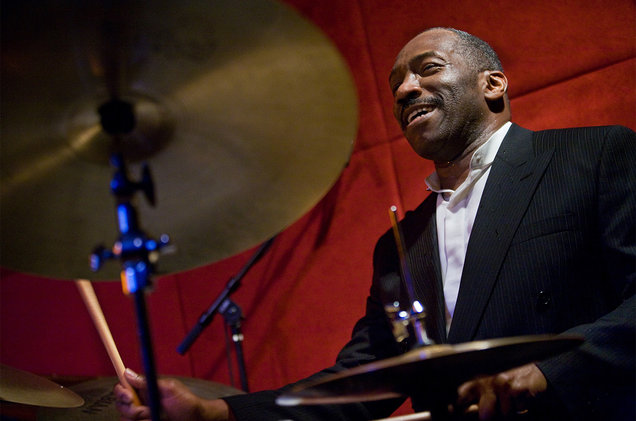 Both the absurdity of the war on drugs and the depravity of the current administration in Washington are illustrated by the maddening case of Alvin Queen, an internationally acclaimed jazz drummer who was denied entry to the US due to a minor drug arrest when he was still a teen—despite the fact that he was born in the country!
Billboard reports that Bronx-born Queen, 67, was barred from the United States by Homeland Security, forcing him to miss a performance at the Jazz Meets France concert in Washington DC on Nov. 15. He'd been invited by the French-American Cultural Foundation. The charges in question are 50 years old—a minor drug offense and a DWI. And both busts resulted in dropped charges—so he actually has no criminal record.
An ex-pat in Europe since 1979, Queen renounced his US citizenship in 2016 after years of dual US-Swiss citizenship—but didn't anticipate this result. He told Billboard: "Funny thing, I gave up my US passport to make life simpler at tax time. I never dreamed I would one day be denied entry, and with such ridiculous reasoning... I feel this is more about racial profiling than anything... I am not a criminal and in fact never was. When I became a Swiss citizen, I 'became a criminal' again in the eyes of US law enforcement."

Under the Homeland Security ruling, Queen (best known for his work with piano legend Oscar Peterson) would have to apply for a special "waiver" to enter the land of his birth. Even if this were granted, it wouldn't be in time to make the November concert in DC.
The theme of the Jazz Meets France concert makes this affair all the more ironic. It's a prestigious gig, with Wynton Marsalis as honorary chairman and Smithsonian Institution secretary Dr. David Skorton as master of ceremonies. It was called to commemorate the centenary of US entry into World War I—and especially to honor the Harlem Hellfighters of the 369th Infantry Regiment, African American soldiers who served in France. The 369th Infantry Jazz Band, also known as the Hellfighters, helped introduce American jazz to Europeans.

Queen concluded to Billboard: "If someone wants to apologize to me and make this right, fine. But I'm not holding my breath. In the meantime, I'll bring my music, this American art form, to every other country in the world. I know they like me in Canada. I'll start there."

Neither Billboard nor the Quebec Daily Examiner—the only other primary source to have covered it—identify the drugs in question. Contacted by High Times, Queen responded by e-mail, saying that he was driving around the Bronx with three friends on that day in 1967 when they were stopped by the cops. Queen (then already drumming with the George Benson Quartet) says the officers found cannabis in the car, but planted "four bags of heroin on each to make the charges worse."

He stressed that the charge against him was dropped, and asked rhetorically: "If I was innocent at the time, then why would they bring this up after 49 years?"
Cross-post to High Times

Image from
Billboard