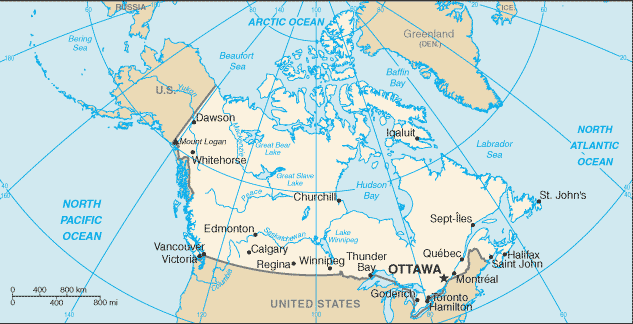 Another dispensary is raided by police in Toronto—the latest in a string of such busts in the city over the past months, with some outlets even shut down. It's an irony that this crackdown comes as Canada is in its final countdown to legalization, and opens questions about whether there will be a place for independent dispensaries and small growers under the imminent new regulation regime.
In what is becoming something of a ritual in Toronto, police used a hammer and crowbar to smash locks and force open the door at the city's California Cannabis dispensary last week. No arrests were made as nobody was on the premises at the time, but several hundred grams of herb were confiscated, according to the report from the Canadian Broadcasting Corporation.

This was actually the fifth such raid on the dispensary in Toronto's West End in less than three months. Each time, police confiscated computers and cannabis. There have also been arrests in some of the raids—although so far no convictions.

The fact that the place remains open is part of what the CBC calls "a frustrating reality for law enforcement." Despite ongoing raids, businesses rarely stay closed and any charges are usually dropped.
"We've actually watched them go out and get new monitors the next day, new Bell lines for their Wi-Fi," complained Sgt Todd Storey to the CBC. "So they're up and running on the internet, so they can tell their customers what they have, where they are, and that they are open."
But the report says Toronto's cops are determined to shut the dispensaries down "for good." Some 600 dispensary employees were charged in Toronto between May 2017 and the year's end—although more than 350 have had their charges dropped.

And in November, the province of Ontario passed new legislation to assist the crackdown on illegal dispensaries. "We have given police more powers to be able to close these stores and keep them closed," boasted Attorney General Yasir Naqvi.

The new measures allow "interim closure orders" for any establishment police suspect is being used for illegal cannabis sales. They also impose penalties on landlords who knowingly lease properties to illegal dispensaries. However, what CBC calls "the problem" (for police) is that these measures do not take effect until Canada's federal government actually instates the long-awaited cannabis legalization law. That is expected to happen this summer. So federal legalization in Canada could actually see an escalated crackdown on independent dispensaries, at least in Ontario.

In December, Toronto's Cannabis Culture dispensary shut its doors for the last time in a victory for the authorities' campaign. It had been busted last March, and co-owners Marc and Jodie Emery charged with various trafficking-related offenses. Speaking to Cannabis Now in December, Jodie Emery ironically mused: "There is a chance I could be in jail when cannabis is finally legalized. Our charges carry a potential of life in prison."

Also in December, Ontario passed a Cannabis Act, setting rules for the legal industry in the province after the federal law of the same name passes, as is expected in the coming months. Under the provincial Cannabis Act, a new governmental body will be created with an official monopoly on recreational sales—the Ontario Cannabis Retail Corporation, a subsidiary of the province's Liquor Control Board. The OCRC will initially operate 40 retail cannabis outlets, with the number increasing to 150 by 2020. As the Toronto Star states: "Illegal pot dispensaries will be forced to close."

Jodie Emery accused federal and provincial authorities of "setting up a massive corporate takeover." While the federal Cannabis Act will have limited provisions for homegrown, the large-scale Licensed Producers (LPs) created for the national medical marijuana system are poised to dominate the recreational market. Currently the LPs only deliver by mail to approved medical users, but they could soon be supplying to government retail outlets—while expanded enforcement shuts down the independent dispensaries, effectively eliminating the competition.

But it may not be so easy to enforce this new order. Another CBC report this week notes that there are 66 dispensaries and 219 cannabis delivery services listed in Toronto on the Weedmaps app. The report profiles various dispensary operators who voice a defiant optimism. "If I get raided, I will be open the next day if my health allows it," said Justin Loizos, a multiple sclerosis sufferer who runs the Just Compassion dispensary. Amid all the raids in Toronto, the cops haven't touched his operation. This is possibly because he maintains an ethical high ground by only selling to approved medical users—despite the fact that he is technically on the wrong side of the law.

Cross-post to Cannabis Now
Graphic: Perry-Castañeda Library Map Collection