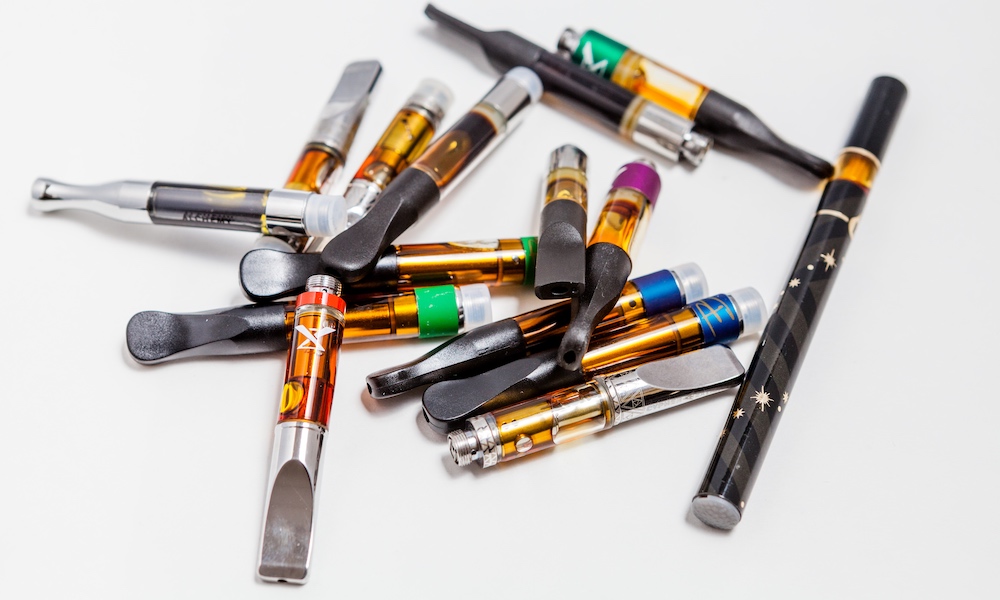 This year has seen a disturbing nationwide outbreak of lung injuries, some fatal, which researchers link to vaping—either of tobacco products or cannabis concentrates. A regulatory crack-down on the vaping industry has ensued—but amid serious confusion displayed by politicians and media alike.
The wave of mysterious vaping-related pulmonary illness, which first broke out over the summer, has now affected thousands across the country. Politicians are proposing action—and urgent concern is indeed warranted.

However, both politicians and some media reportage have purveyed misinformation about the crisis, and betray a poor understanding of vaping in general. Here's an overview of what we know so far.

How many people have been sickened so far?

The federal Centers for Disease Control report that as of Nov. 20, it had registered 2,290 cases of what it is calling "e-cigarette or vaping associated lung injury" (EVALI). Cases have now been confirmed in every state except Alaska. Forty-seven deaths have been confirmed in 25 states and the District of Columbia. The median age of the deceased is named as 53, but this seems to be due to a handful of aged patients driving up the average; a breakdown by age group shows the young disproportionately affected. The youngest of the dead was only 17.

The CDC research noted 1,184 cases in which patients had "complete information" on exactly what substances they had used prior to onset of symptoms. Of these, 83% reported using THC-containing products, while 35% reported exclusive use of THC-containing products. Another 61% reported using nicotine-containing products, with 13% reporting exclusive use of nicotine products. The total of those who reported using both THC and nicotine products clocks in at 48%. Four percent reported neither THC nor nicotine product use—a mysterious category which is not explained.

What do officials think is causing the problem?

The Food & Drug Administration reports that as of Nov. 20 it had received over 1,100 samples from 25 states, with roughly 895 of these samples connected to patients. The samples were collected directly from consumers, hospitals, and state offices, and have included vaping devices and products containing varied levels of liquid. Overall, 689 of the samples connected to patients have undergone some level of testing.

Of these, 445 samples were found to contain THC. And of these 445 THC products, 48% were found to contain vitamin E acetate as a diluent, in concentrations ranging from 23% to 88%. Additionally, 24% of these THC products were found to contain another diluent, such as medium-chain triglycerides.

The FDA had issued a statement in September naming vitamine E acetate as a chemical culprit in the vaping illness, and the updated research may bear this out. Vitamin E acetate is simply a liquid oil form of the vitamin, and is widely used in skin-care products. Inhaling it, however, appears to carry serious hazards.

What can people do to avoid bad carts?

Given that vitamin E acetate is not typically used in cannabis vape products produced for the regulated market, it seems likely that illicit-market dab carts are be responsible for a good proportion of the illness cases. Many of those reporting having used THC products before taking ill were not even in states where such products are legal—meaning what they used was almost certainly purchased on the illicit market.

However, not all legal-cannabis states have explicitly banned use of vitamin E acetate in THC vape products, so it is still possible that some legal cannabis vapes could contain this or other dangerous additives. Therefore, in addition to buying your vape product from a state-licensed dispensary, it's best to also read the testing label to make sure the product only contains material actually derived from the cannabis plant.

How have authorities reacted to the crisis?

The American Medical Association on Nov. 19 called for a nationwide ban on vape products pending more research into the problem. Some states have started to act on their own, while awaiting action from the feds. Massachusetts has been at the forefront. Republican Gov. Charlie Baker in September imposed a four-month ban on legal sales of all vape products, cannabis and nicotine alike. In New York, Democratic Gov. Andrew Cuomo that month also issued an emergency order banning sale of all flavored vape products, excluding menthol. However, Cuomo's ban was challenged in the courts by the Vapor Technology Association—so far, successfully. Courts have also blocked such bans in Oregon, Montana and Michigan, but New York CIty is now going ahead with its own ordinance instating a ban on flavored vape products anyway. And New York state authorities have raised the legal age to purchase e-cigarettes from 18 to 21. Both New York and California have now launched lawsuits against JUUL Labs, the country's biggest e-cig producer, accusing the company of intentionally marketing to youth.

President Trump, at the urging of the AMA, also proposed a nation-wide ban on flavored vapes, but backed down earlier this month—following much ire from the vape industry. At a Capitol Hill hearing on the health crisis in July, Rep. Raja Krishnamoorthi (D-IL) took JUUL to task over its claim that it had removed youth-friendly flavors from stores. "Although you say you took all the flavors out of the stores, you left the mint flavor," he said. "Mint is a flavor and it took the place of other flavors." There has also been much controversy over menthol in tobacco products generally, as this flavor has apparently been aggressively marketed to African Americans. Massachusetts has also banned all flavored tobacco products, including menthol.

But most of these measures, as we can see, have targeted tobacco products, and this has possibly contributed to some confusion in the public mind between nicotine and cannabis vapes—as well as between herbaceous cannabis and cannabis extracts, and even between vaping and smoking. The dwindling but still animated ranks of cannabis prohibition advocates have been quick to exploit this confusion.

What are the media and politicians getting wrong?

Contrary to widespread confusion on this point, pot isn't the villain in the vape-disease epidemic—and, in fact, it could be part of the solution.

Andrew Cuomo certainly contributed to the confusion in an embarrassing Sept. 15 interview with CNBC that was noted by Marijuana Moment. In the interview, Cuomo was doggedly questioned on whether the wave of vaping-related illness had made him reconsider pursuing cannabis legalization. "No," he replied—but quickly added that his administration is "not in favor of smoking marijuana," and that there are "ways to get THC without smoking marijuana."

"People are vaping THC, yes that is true," a visibly confused Cuomo said. "We think that from a public health point of view, that is not something that we recommend and we think it's dangerous—smoking of any kind."

Yet the discussion was about vaping—not about "smoking" anything. When you vape, the cannabis (herb or extract) is evaporated, and you inhale vapor—not smoke. And while Cuomo's flub led some to wonder if his plan for legal cannabis in New York would actually exclude herbaceous marijuana, as the state's medical program currently does, such a measure would certainly not be mandated by the vaping crisis. People are falling ill from using cannabis extracts, not herbaceous marijuana. In fact, the experts agree that the herbaceous form of cannabis is safest. And vaping herbaceous cannabis is probably safer than smoking it, as all smoke contains tar and carcinogens.

The American Lung Association page on marijuana emphasizes that cannabis smoke contains carcinogens, but only invokes vaping to mention the dangers of "dabbing" extracts and concentrates. It says nothing about vaping actual dried cannabis flower, which is an oversight. It also doesn't mention that studies have demonstrated that moderate cannabis use holds no risk of lung damage—in vivid contrast to tobacco. This may be due to anti-cancer properties in cannabis. (The federal government itself holds a patent on the use of certain cannabinoids as antioxidants that could inhibit the formation of cancer-causing free radicals at the cellular level.)

So, despite CNBC's disingenuous line of questioning that flustered Cuomo, there is no logical link between cannabis legalization and the vaping crisis. Democratic presidential hopeful Julián Castro was a lot more on the money when he tweeted on Sept. 11: "We need to legalize cannabis nationwide and properly regulate products in order to keep folks safe."

Cross-post to Cannabis Now
Image: Cannabis Now