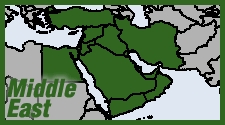 A May 20 Reuters report picked up by Israel's dialy Ha'artez portrays Lebanon's government as having basically thown in the towel on cannabis eradiction in the Bekaa Valley, apparently afraid of the war spilling across the border from neighboring Syria. Towns in the Bekaa were hit by rocket fire last year, and the valley continues to be shaken by periodic sectarian attacks related to the fighting across the border in Syria. During Lebanon's own 1975-1990 civil war, the fertile Bekaa Valley produced up to 1,000 tons of hashish annually, before production was nearly stamped out under an aggressive eradication program. "From the 1990s until 2012, cannabis eradication took place on an annual basis," Col. Ghassan Shamseddine, head of Lebanon's drug enforcement unit, told Reuters. "But in 2012...it was halted because of the situation on the Lebanese borders and the instability in Syria."
The United Nations Office on Drugs and Crime ranked Lebanon in 2011 as one of the world's top five sources of cannabis resin (hashish). Shamseddine said official figures indicate the total area of cannabis planted has remained constant over the last three years at around 35,000 dunams. That's up from 11,000 in 2010, the year before revolution broke out in Syria, and Lebanon starting slipping back into domestic unrest.
Eradication in the Bekaa was clearly contributing to that unrest by angering cannabis farmers. Reters notes veteran Druze leader Walid Jumblatt's proposals to legalize cannabis cultivation for medicinal use (although he improbably insists he's never smoked the stuff himself).
Damascus cooperated with Lebanon's government in eradicating cannabis during Syria's 29-year military occupation of the Bekaa Valley, which ended in 2005. But it continued to cultivate proxy militias in the Bekaa, principally among the Shi'ite villagers. Since 2005, the militant Sunni networks that bitterly oppose the Damascus regime have presumably established a greater foothold in the valley. The stage seems set for a replay of the 1980s, when rival miltiias contested for control of the valley and its hashish (and opium) lucre as they key to money, guns and political power. This, of course, is what prompted Syria to intervene and occupy the valley in the first place in 1976. The Bekaa Valley could well be the flashpoint for a wider regional war in the Middle East.
Cross-post to High Times