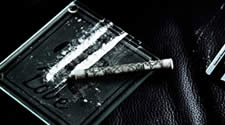 The Supreme Court heard arguments Feb. 28 in DePierre v. United States, on whether the term "cocaine base" in the Federal Sentencing Guidelines is limited to "crack" or includes all forms of cocaine chemically classified as a base. The US First Circuit Court of Appeals in Boston ruled that "cocaine base" refers to "all forms of cocaine base, including, but not limited to crack cocaine." Counsel for the petitioner argue that Congress did not intend "cocaine base" to refer to substances used in the crack-production process.
Last year, Congress and President Obama agreed that cocaine sentences need to be made more consistent. Attorney General Eric Holder said that "we all know that this egregious difference in punishment is simply wrong." Their efforts resulted in the Fairness in Sentencing Act, which Obama signed the law in August. However, the law does little for about 13,000 people now in prison for crack-related offenses whose cases were decided under the old statutes.
The current case involved Frantz DePierre, who was convicted in Massachusetts of distributing both powder cocaine and cocaine base, and sentenced to 10 years. His attorneys argued on appeal that merely possessing the chemicals to refine the drug into crack should not allow the courts to imprison him under a sentence reserved for crack itself. Federal prosecutors argue that the chemical base creates the same dangers as crack cocaine.
In a telephone conversation with an informant, DePierre "confirmed that he had 'the cookies,' a slang term for crack cocaine, but also used the word 'riggedy,' a slang term for powder cocaine," the prosecution's brief says. "The informant asked [DePierre] if he could 'chef [the cocaine] up,' i.e., 'cook' it into 'crack,' and [DePierre] said he would."
If the Supreme Court exempts cocaine base from the same punishments as crack, "It would also exempt from the [law's] coverage substances that are chemically identical to, and every bit as dangerous as crack," the prosecutors say. (Jurist, Feb. 28; AHN, Feb. 21)
Photo by In a NY State of Mind