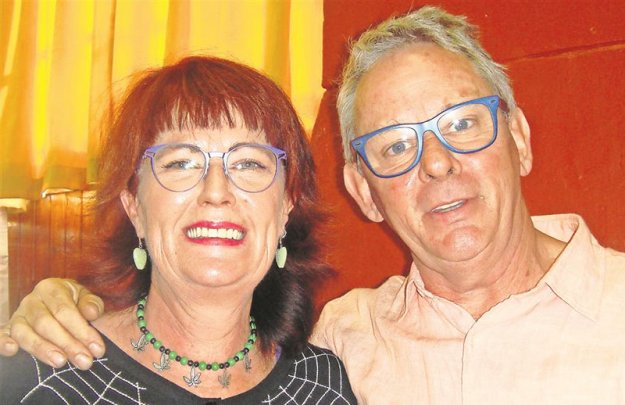 South Africa's cannabis community is grieving and shocked after the slaying of Julian Stobbs, one of the country's frontline activists—and one half of the famous "Dagga Couple" who successfully challenged the marijuana law in the courts. Stobbs was killed in the early hours of July 3 in an apparent armed robbery at his farm outside Johannesburg.
Stobbs was shot dead during the break-in at the couple's small property in the town of Sunrella. The assailants apparently entered his bedroom as he was sleeping. His wife Myrtle Clarke was not harmed.
The assailants reportedly made off with two laptops and two cellphones, jewelry and other valuables.

Fields of Green for All, the advocacy organization established by the Dagga Couple, said on its Facebook page: "The cannabis community is mourning the passing of our hero. The family is requesting that the public respect their privacy and allow Myrtle and the family some space during this difficult time. Thank you for the outpouring of love we have already received."

The Dagga Couple were most celebrated for their legal battles that helped to finally win nationwide decriminalization of cannabis across South Africa in 2018.

In a bitter irony, the journey of the Dagga Couple also began with a violent armed break-in at their farm—but this one by a squad of the South African Police Service. The couple initially thought the raid was a robbery. After ransacking the house, police found 115 grams of dagga, as marijuana is called in South Africa. The couple was charged with intent to deal, and faced long prison terms.

Rather than seeking a plea deal, Stobbs and Clarke fought the charge—and even turned the tables by launching suit against the Police Service other government agencies involved in enforcing South Africa's cannabis laws. They argued that cannabis use is protected under privacy provisions of the country's constitution. This was the beginning of what was dubbed the "Trial of the Plant," which proved the critical first step in South Africa's path to decrim.

The couple were completely out of the cannabis closet, and utterly unrepentant. "You forget to realize that everybody that uses any drug has rights as well," Stobbs said ahead of a 2017 court hearing, Hemp Today recalls. "They are not animals and should not be put in jail."

While the Trial of the Plant was still wending its way through the appeals process, a second challenge was brought to South Africa's cannabis laws—by Gareth Prince, a law student of Rastafarian inclination who was denied a license to practice by the South African Law Society upon graduation. This decision, made on the basis of his open cannabis use, was what Prince fought in the courts. It was his case that resulted in the Constitutional Court ruling of September 2018 that decriminalized the use, cultivation and personal possession of dagga nationwide. The high court gave parliament two years to update legislation—a deadline that is now approaching.

Gareth Prince hailed Stobbs as breaking ground for his legal victory. "He was a fearless warrior, somebody who was not afraid to state his mind and to stand up for what he believed in," he told South Africa's TimesLIVE after the slaying. "He was a great warrior for the freedom of dagga. His memory will live on for as long as we remember cannabis."

The Dagga Couple's case is technically still pending, but it is rendered rather moot by the high court decision in the Prince case. Fields of Green for All is meanwhile pressing for general legalization of cannabis in South Africa.

British-born Stobbs was a retired UK Royal Navy air traffic controller, and he was hailed on his passing by the UK's jingo tabloids The Mirror and Daily Mail as a Falklands War veteran. He did serve on a British frigate suring the conflict. But he basically dropped out to be a hippie after his military service.

He told South Africa's The Citizen in a 2017 profile: "I then walked away from that and packed a bag and a guitar I couldn't play yet and went and hung out on a beach in Goa in 1987 for five years and dropped off the edge of the Earth. I went back to Europe, I hated it, so I came here...and I have been here on this stoop for 26 years." He had a successful career in South Africa as a producer and art director in television and film.

Popular South African DJ Chris Palmer was among those who noted the passing of Stobbs on social media. He summed up the feelings of many when bid farewell to Julian on Facebook: "Rest in peace my friend, may your work carry on unhindered."

Cross-post to Project CBD
Image:
Jurist