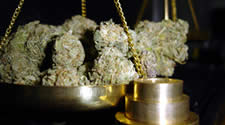 "The social sharing of a small amount of marijuana" by immigrants lawfully in the US does not require their automatic deportation, the Supreme Court ruled April 23. "Sharing a small amount of marijuana for no remuneration, let alone possession with intent to do so, does not fit easily into the everyday understanding of trafficking, which ordinarily means some sort of commercial dealing," Justice Sonia Sotomayor wrote for a seven-justice majority.
The case arose from a 2007 traffic stop in Georgia, in which Jamaican citizen Adrian Moncrieffe was found with 1.3 grams of cannabis—"the equivalent," Justice Sotomayor wrote, "of about two or three marijuana cigarettes." Moncrieffe pleaded guilty to possession with intent to distribute, a felony under Georgia law, and was sentenced to five years probation. Saying the conviction established that Moncrieffe had committed an "aggravated felony," federal authorities sought to deport him.
Immigration law defines "aggravated felonies" to include drug offenses that would be punishable by more than a year in prison under the federal Controlled Substances Act. The act calls for a maximum term of five years for possessing controlled substances with an intent to distribute—but contains an exception for the distribution of "a small amount of marijuana for no remuneration," which judges may treat as a misdemeanor subject to no more than a year in prison.
Justice Sotomayor found ambiguity in whether Moncrieffe's case fell into this category, but wrote that the court must err on the side of his rights. Justices Clarence Thomas and Samuel A. Alito Jr. wrote dissenting opnions in the case, Moncrieffe v. Holder, No. 11-702. (NYT, April 23)