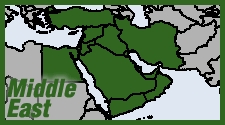 Border Guard patrols along Saudi Arabia's rugged mountain frontier with Yemen report mounting interceptions of hashish, weapons and other contraband. Over the past nine months, interceptions at the Najran border post alone netted four tons of hashish, as well as explosives, hand grenades, firearms and ammunition. Some 250 smugglers and 25,000 "infiltrators" were also detained at the post, and several vehicles impounded. But Border Guard officials admit that on several occassions the smugglers got away into the wilderness, with agents firing after them. At the Wadi post, to the east of Najran, border guards last month confronted six "infiltrators," killing five and capturing the survivor. Four tons of hashish were confiscated along the border just during the holy month of Ramadan, which ended with the Eid al-Fitr festival July 28—possibly because smugglers thought patrols would be slacking off. On the contrary, Saudi forces beefed up patrols.
Border control is a growing concern in the Saudi kingdom, with war raging both in Yemen to the south and Iraq to the north. Saudi authorities are continuing to investigate a mortar attack on the Jadida Arar post along the Iraqi border in early July. In late July, guards on the Jordanian border claimed to have confiscated almost a quarter of a million Captagon pills, as well as quantities of amphetamine. (Arab News, Aug. 8; SPA, Aug. 5; Asharq Al-Awsat, July 29; KUNA, July 7)
With all eyes on the ISIS take-over of northern Iraq, civil war is escalating in Yemen. On Aug. 13, clashes between Houthi Shi'ite rebels and tribal fighters loyal to the conservative Islah party left at least 15 dead in Yemen's northern al-Jouf governorate, bordering Saudi Arabia. Both sides used heavy weaponry, including tanks that were previously captured from the army. At least 200 people were killed and more than 35,000 displaced in July when Houthis overran Amran, just 50 kilometers north of the capital Sanaa. (Reuters, Al Manar, Aug. 13)
We may be sure that all sides in the multi-sided Yemeni conflict are turning to the hashish trade—although with greater hypocrisy for the jihadist forces, who share the Saudi state's ultra-puritanical stance on cannabis. In northern Iraq, ISIS is said to be taking in $1 million a day in sales of black-market oil plundered from facilities they have seized. Saudi Arabia is the real prize in the region—both for its vast oil resources and its stewardship of Mecca and Medina, revered by all the sectarian Islamist factions. The rulers of sparsely populated Saudi Arabia are clearly worried about their security forces being stretched very thin.
Cross-post to High Times