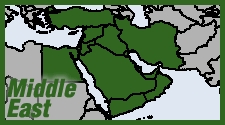 Just 24 hours into 2016, Saudi Arabia made world headlines with the execution of a dissident Shi'ite cleric—sparking violent protests in Iran, and a breaking off of diplomatic relations. But this just punctuated a very busy year for the Saudi execution state, with most of the victims receiving little international attention, and many sent to the chopping block for victimless crimes—prominently including drug possession.
Saudi Arabia carried out at least 157 executions in 2015, with beheadings reaching their highest level in the kingdom in 20 years, according to a Jan. 1 Associated Press report. Coinciding with the rise in executions is the number of people executed for non-lethal offenses that judges have wide discretion to rule on—particularly for drug-related crimes. Amnesty International found in November that at least 63 people had been executed in Saudi Arabia since the start of the year for drug-related offenses. That figure amounted to at least 40% of the total number of executions in 2015, compared to less than four percent in 2010. Amnesty said Saudi Arabia had exceeded its highest level of executions since 1995, when 192 executions were recorded.

Saudi law allows for execution in cases of murder, drug offenses and rape. Though less often carried out, the death penalty also applies to adultery, apostasy and witchcraft. But while most of these charges carry fixed punishments under Saudi Arabia's interpretation of Islamic law, drug-related offenses are considered ta'zir, meaning neither the crime nor the punishment is defined in Islam. This leaves it up to the discretion of jurists.
A 2005 Saudi royal decree issued to combat narcotics further codified the right of judges to issue death sentences "as a discretionary penalty" against any individual found guilty of smuggling, receiving or manufacturing drugs. (SMH)
There's certainly some irony to the protests in Iran. According to the Norway-based International Campaign for Human Rights in Iran, at least 648 people were executed in the Islamic Republic in the first six months of 2015—more than two-thirds for drug offenses.

Cross-post to High Times.