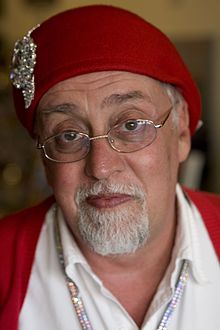 Gay pioneer and artist Gilbert Baker, famous as creator of the iconic Rainbow Flag, died in his sleep at age 65 on March 31 at his home in Manhattan. Baker's first flag was an eight-colored banner that flew above the 1978 Pride festivities in San Francisco—then the Gay Freedom Day Parade. Baker, well known for making banners for gay and anti-war street protest marches, created the flag at the behest of his friend Harvey Milk—the gay community leader later elected a San Francisco supervisor, and assassinated that November. The flag has since become a global symbol of the LGBT community—raised at pride festivals worldwide, and forever flying over the corner of Castro and Market streets.
In 1994, Baker Moved to New York City where he created his mile-long Rainbow Flag for the 25th anniversary of the 1969 Stonewall Riot. Carried by 5,000 people as it was unfurled before a crowd of millions marching past the United Nations, it broke the world's record for largest flag.

Baker continued to give speeches and lectures about the Rainbow Flag and LGBT history in cities around the world. According to his official bio, he has written an unpublished memoir about his life as the creator of the flag—which will hopefully see print posthumously.
Photo via Wikipedia