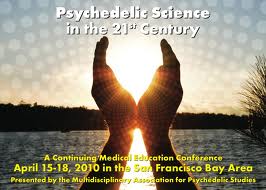 Next week, the Multidisciplinary Association for Psychedelic Studies (MAPS) will bring a host of psychedelic scientists and visionary artists together in San Jose, California for the largest conference of its kind in the U.S. in 17 years. Attendees of "Psychedelic Science in the 21st Century" can expect three full days of presentations on the clinical and spiritual applications of drugs such as ayahuasca, ibogaine, LSD, MDMA, psilocybin, and salvia divinorum. A full list of speakers and topics is available at www.maps.org/conference/.
Pre- and post-conference workshops will also be available with Stanislav Grof, M.D., Rick Doblin, Ph.D., Michael Mithoefer, M.D., Annie Mithoefer, B.S.N., Alex and Allyson Grey, David Nichols, Ph.D., Franz Vollenweider, M.D., Ralph Metzner, Ph.D., and Annie Oak, Mariavittoria Mangini and Carolyn "Mountain Girl" Garcia of the Women's Visionary Congress.
While the event is open to the general public, tickets are sold out. There is, however, a waiting list. For those who cannot attend, a follow-up on the event will be made available later this month.