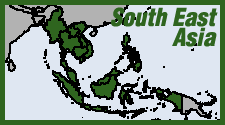 The Philippines' ultra-hardline President Rodrigo Duterte may have finally gone too far. It is all too telling that after his anti-drug crackdown has claimed perhaps 7,000 lives since he took power last June, it is the death of a prominent foreign businessman that has finally prompted him to—perhaps—rein in his murderous police. All those suspected low-level drug users and dealers who were killed? Their lives don't matter, apparently. But after rogue National Police officers abducted and put to death a South Korean shipping company executive, Duterte has finally pledged to disband the controversial anti-drug units.
Duterte has pledged swift justice in the death of magnate Jee Ick-joo, although only one suspect is in custody. Four others—all members of the same anti-narco squad—remain at large. On Jan. 30, Duterte gave them 48 hours to turn themselves in, or have a dead-or-alive bounty placed on their heads of 5 million pesos ($133,000)—and made clear he would prefer them dead. "I won't let you get away with it," he said in his typical style. "You will suffer."
But his police chief, Ronald dela Rosa, in announcing the the break-up of narco units, made clear that they would be rapidly reconstituted. "We will dissolve all anti-drugs units in the police," he told a joint press conference alongside Duterte. "I will do my job to the best of my ability I hope I will not fail the president and the Filipino people."

And Duterte was quick to add that the narco crackdown will continue until the end of his six-year presidency, despite international criticism. "I do not give a shit," he said. "I have a duty to do, and I will do it."
Jee Ick-joo was murdered inside Camp Crame, the Philippine National Police headquarters compound in Quezon City, after being abducted from his home in nearby Angeles City in October. Seemingly not even bothering to hide the fact that they were police, the adbuctors demanded his family pay a ransom of eight million pesos (US$160,000). The family paid five million pesos but withheld the rest until the captors provided proof he was still alive. According to police witnesses, Jee was strangled to death after his head was wrapped in packing tape. His body was later cremated, and the remains flushed down a toilet.

Even some cases involving the killing of mere commoners are starting to give Duterte grief. A survivor of a police raid that killed four other drug suspects has petitioned the Philippines Supreme Court to halt such operations, and to help him obtain police records to prove his innocence. Petitioner Efren Morillo survived being shot during the August raid on impoverished Payatas district in metropolitan Manila. The Supreme Court has already issued an order prohibiting designated police officers from entering Payatas after residents accused them of threatening witnesses in the case.
Cross-post to High Times