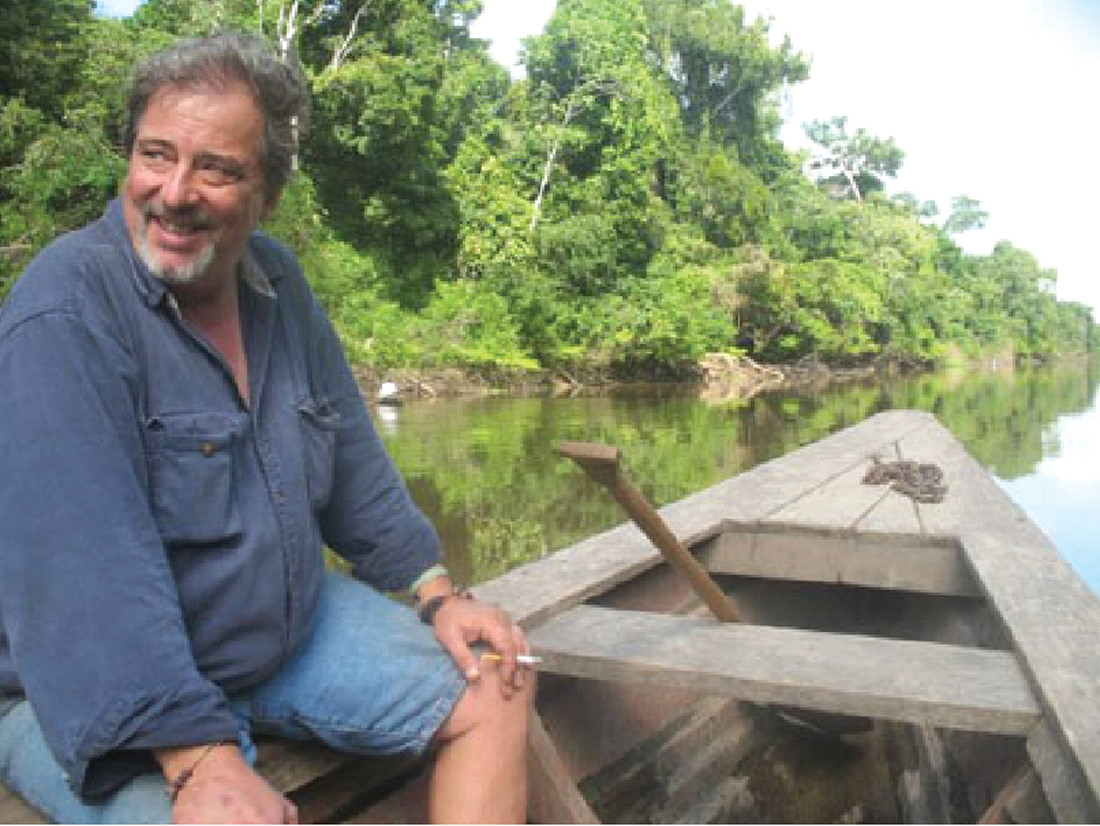 Peter Gorman, the acclaimed journalist, naturalist and adventurer who aggressively covered cannabis and the drug war beat for over 30 years, died at his home in Texas on April 24 at the age of 71. He had just returned from a long-planned river journey into a remote area of the Peruvian Amazon that he had first visited in 1984, and where he first encountered the psychoactive shamanic substances that would define much of his life's work.
Chief among these was ayahuasca, which Peter called "the visionary vine of the Amazon," but also the stimulant snuff nu-nu used for energy on hunting expeditions by the Matsés people of the Amazon, and the frog secretion known locally as sapo (from the Spanish word for toad). Peter would return to Peru's rainforest many times over the years to learn more about the indigenous herbal pharmacopeia, and for a while ran the Cold Beer Blues Bar in the Amazon river port of Iquitos. Botanical samples he collected on his excursions are on display in the Hall of South American Peoples at New York's American Museum of Natural History.
A native of Queens, New York, Peter started writing for High Times magazine in the '80s, and over the following decade-and-a-half served in various editorial positions there, including editor-in-chief. Here is where he earned his reputation as a fearsome investigative journalist, doggedly covering the abuses of the "war on drugs"—mass incarceration, mandatory minimum sentences, asset forfeiture. He also covered, and helped fan the flames of, the growing grassroots movement in this period for medical marijuana, which opened the first cracks in the edifice of cannabis prohibition in the United States.

He also reported overseas for High Times and other publications, visiting the hashish heartland of Morocco's Rif Mountains and the jungle-shrouded Palani Hills of southern India.
After leaving High Times, he relocated with his family to Texas, and became the star reporter for the Fort Worth Weekly, covering, among other things, immigration issues and environmentalist campaigns against oil and gas fracking. In 2007 and 2010 he was named "Texas Print Journalist of the Year" by the Houston Press Club's Lone Star Awards.
Peter was the author of three books: Ayahuasca in My Blood, Sapo in My Soul, and Magic Mushrooms in India & Other Fantastic Tales. He was interviewed at length about his life's work on the CounterVortex podcast last November, when he was preparing what would be his final trip into the Amazon rainforest.
Gorman is survived by his daughter, two adopted sons, and several grandchildren.

Photo via Fort Worth Weekly