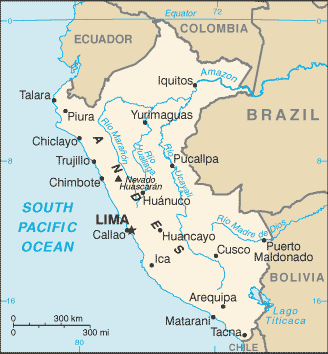 Announcement of an aggressive new coca-eradication campaign in Peru was met with a deadly attack on security forces in the targeted production zone. Authorities said "narco-terrorists" attacked a National Police patrol in the Apurímac-Ene-Mantaro River Valley (VRAEM), leaving two troops dead. The VRAEM, a pocket of jungle on the eastern slopes of the Andes, is believed to produce some 75% of Peru's coca leaf, but the government has until now resisted US pressure to launch an eradication program there, for fear of enflaming the tense situation in the valley. A surviving remnant of the Shining Path insurgency remains active in the VRAEM, offering cocaleros protection from security forces in exchange for their loyalty.
The May 31 attack took place in a remote area of Luricocha district, part of Huanta province of Ayacucho region. Far from administrative centers, the VRAEM is divided between several of Peru's official "regions." In much of the VRAEM, the government has virtually no presence other than National Police and army troops. With a new oil pipeline cutting close to the valley—and Senderistas launching sporadic attacks on construction crews—getting the VRAEM under control is seen as critical.

The attack came just five days after Peru's drug czar Carmen Macias—officially the head of National Commission for Drug-Free Life and Development (DEVIDA)—announced the unprecedented VRAEM eradication program. The program is part of the 2017-21 counter-narcotics strategy, which aims to eradicate coca production by 50%, to be partially replaced with "substitution crops" such as coffee and cacao.

The attackers seemed to provide early vindication of the prediction in defense journal Jane's 360 that the eradication program will escalate violence in the VRAEM. A Jane's "Country Risk" report in response to Macias' announcement warned that the program will "increase insurgent attacks against security forces, helicopters, and construction companies."
Cross-post to High Times
Graphic: Perry-Castañeda Library Map Collection