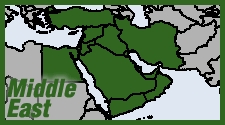 The past year has seen a spate of dangerous brinkmanship in the Persian Gulf, with Iran and US naval forces along with those of the Gulf's oil-rich Arab mini-states playing chicken over the strategic choke-point of the Strait of Hormuz. But in addition to this show-down over a global oil outlet, the Gulf has seen escalating militarization in the guise of narcotics enforcement. Bahrain's Gulf Daily News on Nov. 26 ran a story boasting of the exploits of a 29-nation Combined Maritime Forces group, based at the petro-kingdom's sprawling US Navy base and commanded by Capt. Robert Slaven of the Royal Australian Navy. While it claims to have "considerably reduced the number of terrorist attacks in the region" over the past decade, it's most concrete gains are hashish and heroin seizures.
"There is a well-established link between terrorism and narcotics and since January this year we have already seized six tonnes of heroin from well-known drug smuggling routes in our area of operation, which includes the Gulf of Aden, the North Arabian Sea, the Gulf of Oman and the Arabian Gulf," said Capt. Slaven. "These operations are directly stopping heroin being sold on a street in London and helping to fight the war on terror. " He hastened to add: "But we are also here to respond to any terrorist attacks if they happen and we are able to turn military overnight if we have to."
The CMF was formed in the wake of the 9-11 attacks in 2001 and operates along a route between Afghanistan and the Arabian Peninsula known as both the "hash highway" and the "smack track." In its latest major haul in October, Her Majesty's Canadian Ship Toronto seized 154 bags of heroin, weighing more than 180 kilograms, from a vessel intercepted in the Arabian Sea. The Gulf Daily News account also mentions smuggling in black-market oil by "criminals in Iran, where sanctions make it a valuable commodity."
While media in the Gulf states demonize Iran as a drug-exporting terrorist sponsor, the Islamic Republic obviously feels threatened itself, and is carrying out its own harsh crackdown—including an execution spree. October saw an ambush of Iranian border guards by Sunni guerillas in the Baluchistan region—along the frontier with Pakistan, a major crossing point for Afghan hash and smack. Fourteen troops were killed, and authorities responded by summarily hanging 16 accused Baluch Sunni militants at the local Zahedan prison—to protests from international human rights groups.
On Oct. 27, the Persian-language service Radio Zamaneh reported that 1,800 prisoners at Qezel Hessar Prison in Karaj, just outside Tehran, had gone on hunger strike to protest the execution of 11 drug convicts at the facility. The strike was reported by independent human rights workers in Iran, and many of those refusing food are themselves on death row for drug offenses. One prisoner told the independent Human Rights Activists News Agency that the strikers are demanding review of their cases by the judiciary.
Some courageous prisoners' families are meanwhile calling for reduced sentences for drug trafficking—even holding vigils outside the Parliament building. On Nov. 25, more than 30 mothers, spouses and children of prisoners staged a sit-in in front of Parliament, calling for the abolition of the death penalty.
Cross-post to High Times