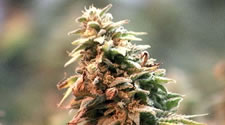 While Canada's move to officially legalize cannabis has been hailed as courageous and historic by advocates around the world, some of the planet's most intolerant governments are reacting with dismay—even threatening to have their own citizens arrested if they indulge in legal marijuana on Canadian sovereign territory.
It may not be too surprising that reactions to Canadian cannabis legalization, which officially took effect Oct. 17, have been harshest in East Asia—the region of the world with the most intolerant approach to marijuana. But many observers were shocked when some regional governments went to far as to threaten their own citizens with arrest if they toke half a world away in the Great White North.
South Korea and Japan threaten arrests
It was South Korea that had the most immediate, and most ominous, reaction. "Even if South Koreans are in a region where marijuana is legal, it will be illegal for them to consume it," Seoul's embassy in Canada tweeted in Korean as legalization hit in. "Please take care not to commit an illegal act and be punished."
This threat would appear to be legally dubious. It's true that under South Korea's notoriously harsh drug law, growing, possessing, transporting or consuming marijuana is a crime punishable by up to five years in prison or a fine of up to 50 million won—about $44,000. Still, even though consumption is covered by the law, the notion that South Korean authorities could prosecute for activity that took place in another country seems an absurd stretch.

There are about 23,000 South Korean exchange students in Canada, according to official government figures, as well as many more tourists at any given time.

Enforcement within South Korea has always been harsh—and has been getting harsher in recent years. According to the New York Times, authorities reported 8,887 drug arrests last year—up from 5,699 in 2014. South Korean cops booked 1,044 people on cannabis-related charges last year, a 49% increase from 2014. And that's with cannabis both scarce and expensive in the country.

Japan was the next to follow with a similar threat. Tokyo's consulate in Vancouver warned on its website that Japanese laws banning the possession and sale of marijuana may be applied to actions taken abroad. "Japanese residents and travellers should take ample care to stay away from marijuana, including food and beverages that include marijuana," the statement read.
China and Singapore also issue warnings
The People's Republic of China weighed in a few days later, although without going so far as to explicitly threaten arrest. Beijing's consulate in Toronto issued a statement reading: "The consulate would like to remind the Chinese citizens in the consular district, especially international students, in order to protect your own physical and mental health, please avoid contact or using marijuana."
Singapore followed up the next week. On Oct. 26, the city-state's Central Narcotics Bureau issued a statement warning that any citizen or permanent resident found to have used marijuana overseas would be treated as though he or she had used drugs in Singapore. The statement darkly warned of "enforcement checks" at the Singapore's ports of entry—invoking the specter of spot urine collection, with action taken against those who test positive for cannabis.

Singapore's authorities may also be concerned about a weakening of the prohibitionist dogma even within the Southeast Asian region. Although the statement didn't directly refer to any country, the Bureau said it was aware of "ongoing discussions" over the safety and legality of medical marijuana—a presumed reference to Malaysia, where officials have recently broached the question in response to global outrage over the death sentence meted out to a producer of medicinal cannabis oil.

On the other hand....
Again hardly surprisingly, the most enthusiastic international reactions to Canada's move have come from opposition parties.

"Canada shows the way. When will the UK end the catastrophic prohibition of cannabis?" tweeted Norman Lamb, a parliamentarian with Britain's Liberal Democrats.

Richard Di Natale, leader of Australia's Green party, hailed Canada for taking a "common sense step" with legalization. "It is high time that Australia follows suit," he said in a tweet punctuated with a winking face emoji and a green heart, as CTV noted.

Cross-post to Cannabis Now


Photo by Barbara Doduk