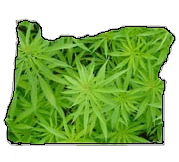 Members of the Confederated Tribes of Warm Springs, on the eastern slopes of Oregon's Cascade Mountains, voted up a proposal to permit growing, processing and selling cannabis for the recreational market, tribal officials announced Dec. 18. The referendum passed by an impressive 86%, said Don Sampson, CEO of Warm Springs Ventures, the tribes' economic development corporation. Sampson told The Oregonian that the election drew about 1,400 voters who "turned out even in a winter storm." Turnout among youth was especially strong.
Tribal leaders will meet with officials in Gov. Kate Brown's office to hash out the conditions under which the enterprise will operate. The project is expected to create more than 80 jobs, with net revenue from the three proposed tribal-owned retail outlets projectred to top $26 million annually. Sales are slated to start in winter 2016. "Our main purpose is to create jobs on the reservation and produce revenue for the tribes," Sampson told the Associated Press.

The vote comes a year after a US Department of Justice policy statement indicated that tribes may produce and market cannabis under the same guidelines as states that opt to legalize.
Image by MMJ-Guide.com