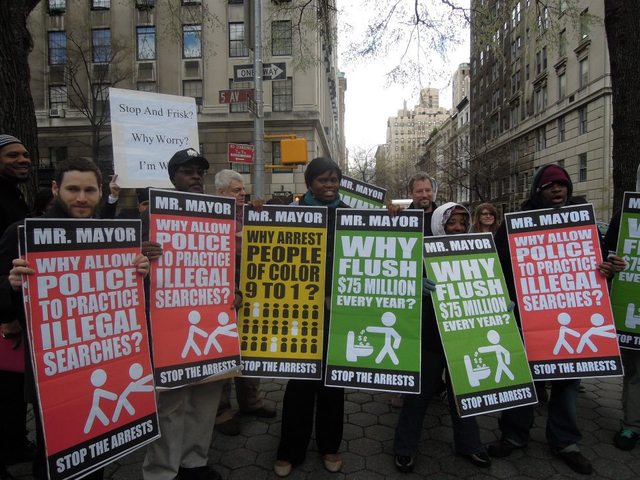 A new study finds that NYPD cops in the Bronx made hundreds of unlawful cannabis arrests over a five-month period last year—despite a warning from Police Commissioner Raymond Kelly. The study, released April 2 by the advocacy group Bronx Defenders, shows that illegal stops and searches are an "epidemic" in the Bronx, said the group's executive director Robin Steinberg.
Her organization interviewed 518 people arrested for cannabis possession from May to October 2011 and found that 41% had their rights violated. In 176 cases, there was no cause for people to be detained, and in 184, the organization concluded that cops "manufactured" misdemeanor charges by forcing people to show their cannabis. Nearly all those arrested for cannabis possession in the Bronx are Black and Latino men. The cases reveal "a policing strategy that overwhelmingly and disproportionately targets young people of color and relies on rampant disregard for the civil rights of the people the NYPD is charged with protecting," the organization said in a statement. NYPD officials said they would not comment because they have not seen the study. (NY Daily News, April 3)
On March 30, community members and activists with New Yorkers for Health & Safety marched to Mayor Michael Bloomberg's house to demand an end to the illegal cannabis arrests. While Bloomberg proposes cuts to New York City public libraries, firehouses, and after-school programs, he's spending at least $75 million a year for these arrests, activists pointed out.
Protesters accused Bloomberg of hypocrisy, pointing out that last year, the mayor launched a new, $130 million campaign called Young Men's Initiative—"the nation's boldest and most comprehensive effort to tackle the broad disparities slowing the advancement of black and Latino young men"—yet he's simultaneously wasting $75 million a year on arresting tens of thousands of young Black and Latino men for bogus low-level marijuana possession charges.
"Mayor Bloomberg is talking out of both sides of his mouth when it comes to helping young Black and Latino men like me," said Alfredo Carrasquillo, a community organizer for VOCAL-NY who has been illegally searched and falsely arrested for cannabis possession. "The money for his Young Men's Initiative goes to waste along with the taxpayer dollars he's wasting on pursuing his marijuana arrests crusade in my community." (Toke of the Town, March 30)
Photo: Drug Policy Alliance