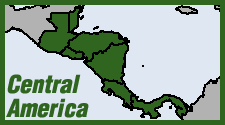 The International Day for the Elimination of Violence Against Women march in Nicaragua's capital Nov. 25 was ironically set upon by the riot police, with several women detained. The Managua march was emotionally charged, as it was led by Elea Valle—a campesina woman whose husband and two young sons were killed two weeks earlier in a raid by army troops on their home in the country's eastern rainforest.
The army is portraying the Nov. 12 massacre at the village of La Cruz del Río Grande as a drug raid, saying the slain were "delinquents" and that 20 pounds of marijuana were found in the homestead. "This is a total lie," Valle told Nicaraguan daily La Prensa. She says her sons—12 and 16 years old, and among six slain in the incident—were gunned down unarmed, and that the cannabis was planted by the soldiers.
Valle says the raid was actually planned as a political assassination, and the target was her husband, Francisco Pérez Dávila, who was suspected of collaborating with armed insurgents in the area. Pérez Dávila was the brother of Rafael Dávila AKA "Comandante Colocho"—leader of a "re-contra" faction, peasants who have taken up arms against the increasingly authoritarian government of Daniel Ortega.

Valle is demanding return of the bodies of her slain kin, fearing that they may have been dumped in a mass grave. The archbishop of Managua, Cardinal Leopoldo Brenes, has also called on the army to return the remains of those killed in the raid.
Fourteen days after the deadly incident, on Nov. 27, President Ortega still maintained his silence on the affair, instead dedicating a speech to his friend Fidel Castro on the first anniversary of his death, La Prensa noted.

The Nicaraguan Human Rights Center (CENIDH) is supporting Valle's demand for a full investigation into the slayings.
Cross-post to High Times