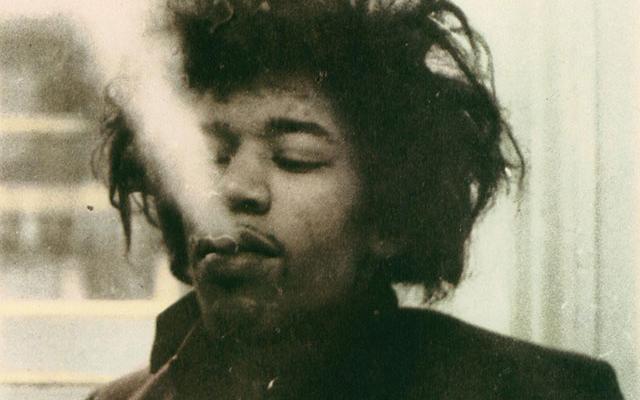 We noted last year that a Seattle-based equity firm is planning to market "Marley Natural" brand cannabis in states where it is legal. Now it seems guitar god Jimi Hendrix is to be thusly immortalized. The San Diego Union-Tribune reports that Toronto-based Nutritional High International Inc announced this week that it has "entered into an exclusive licensing agreement...under which the Company may manufacture and distribute various marijuana and hemp-based edible products using the song titles and bearing the likeness of iconic guitarist Jimi Hendrix." The products in question, to be marketed under the "Edible Experiences" banner, include "Purple Haze" and "Stone Free" lines. (There's already a Purple Haze cannabis strain developed by Dutch growers, although the song was more likely about the LSD experience.) In a cute twist, the "Stone Free" line is to be a preparation infused with CBD—the cannabinoid that is thought to have medicinal value but doesn't actually get you stoned.
These are to be "hemp oil-infused products, including gummy bears, hard candies and health and energy drinkable products." The company also plans to market a line of psychoactive edibles, "Jimi's Cannabis Collection," in conjunction with Purple Haze Properties, a US firm that works in collaboration with Jimi's brother, Leon Hendrix. Purple Haze Properties will independently launch other cannabis products and Hendrix-branded cafes in "major marijuana markets" in the US. Both lines are set to be launched by the end of this year in Colorado.
However, Experience Hendrix, the family-run company that oversee the Hendrix estate, is not involved in Nutritional High's upcoming product line. "This has nothing to do with Experience Hendrix LLC, the legitimate Hendrix Family-owned entity which administrates intellectual property associated with Jimi Hendrix," said Bob Merlis, longtime spokesman for Experience Hendrix. "I'm going to forward this notice to them, as they are quite vigorous in enforcing their rights."
Nutritional High assured the Union-Tribune that they are in the clear legally. But we're reminded of the acrimony between the Marley estate and the reggae legend's former bandmates over the "Marley Natural" product line. The Union-Tribune notes that country music giant Willie Nelson is also planning to market his own line of cannabis and cannabis-related products, Willie's Reserve, and to sell them in his own chain of pot shops. But a living star launching his own enterprise is one thing. Cashing in on the legacy of departed musical and counterculture icons is something else...
It could be worse, however. The Guardian reports that British bank VirginMoney is set to release a credit card for aging punks, emblazoned with the name "Sex Pistols" and iconography from their ground-breaking first album "Never Mind the Bollocks." All we can say is, God save Johnny Rotten.
Cross-post to High Times
Graphic: PicsList.com