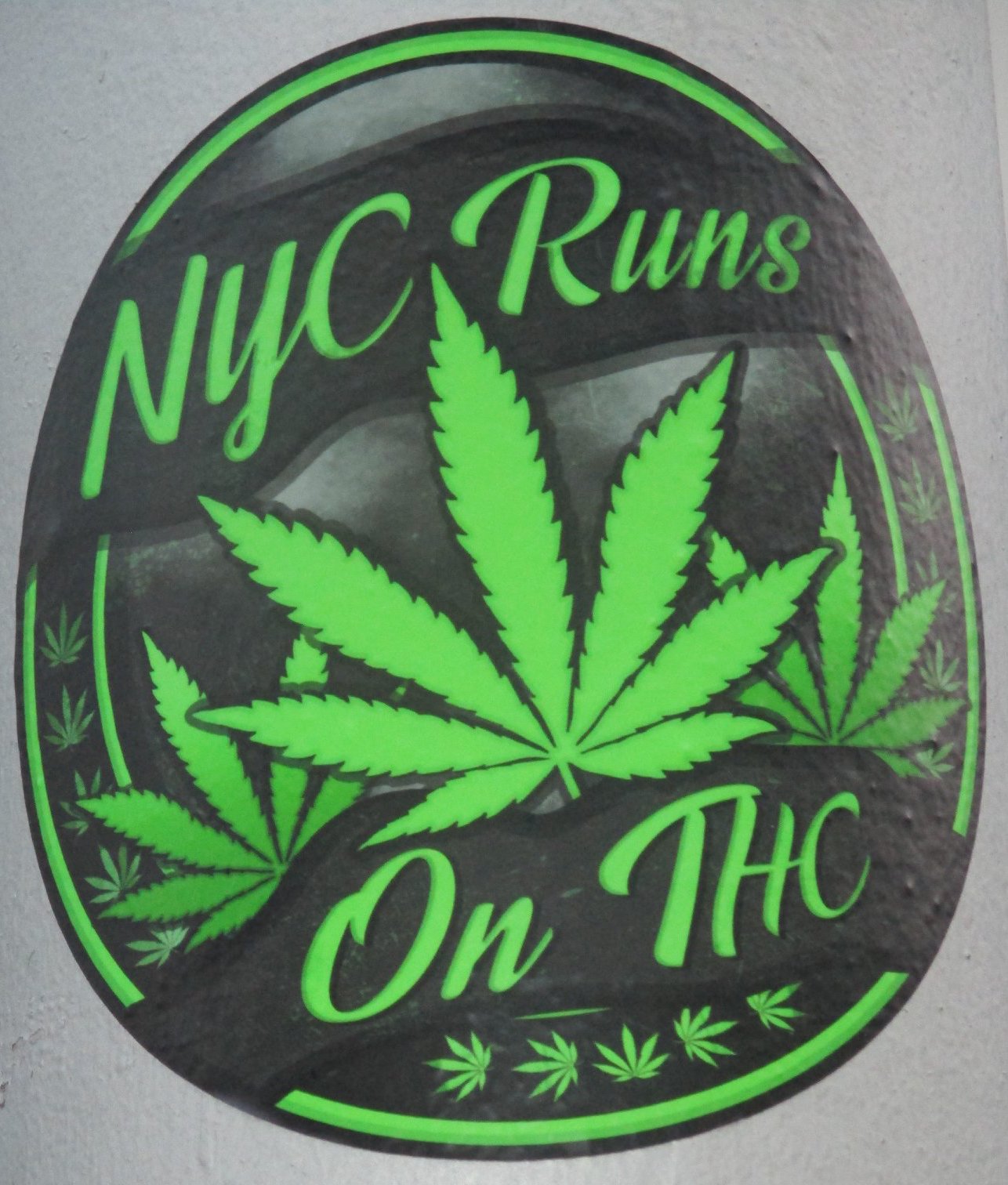 In a paradox, New York authorities are finally unleashing the long-anticipated crackdown on the state's legion and proliferating unlicensed cannabis retailers—while the licensing program continues to be slowed by obstacles, including legal challenges.
The free-for-all in the cannabis market that has ensued since legalization in New York state two years ago has been dubbed the "Wild East." But with authorities long threatening a crackdown, there has been a sense of waiting for the proverbial other shoe to drop. Now, that boot is starting to come down...

The Empire State strikes back
With the New York state budget typically weeks late at the end of April, Gov. Kathy Hochul insisted on including one more measure in the package—a plan to target unlicensed cannabis shops. She prevailed.

The official statement on the April 27 deal included this bullet point: "Expanding the enforcement powers of the Office of Cannabis Management and Department of Taxation and Finance to further grow the legal marketplace for cannabis, including levying fines on illegal retail operations and closing those shops down."

Hochul's plan jacks up the fines for retail outlet violations—$10,000 per day for "illegal" sales, and up to $200,000 if unlicensed cannabis is found in a store's inventory.

A crackdown had already been underway at the local level—especially in New York City, where upwards of 1,400 unlicensed outlets are said to be operating.

At a press conference back on Dec. 15, Mayor Eric Adams announced the creation of a Cannabis NYC Interagency Enforcement Taskforce—bringing together the New York City Sheriff's Office, the NY Police Department, and the state Office of Cannabis Management.

At a Jan. 18 City Council hearing on the matter, NYC Sheriff Anthony Miranda testified that "teams will be dispatched to all five boroughs on different days of the week. We are conducting long-term and short-term investigations."

In February, the Adams administration announced a related effort in partnership with Manhattan District Attorney Alvin Bragg. In a first action, Bragg sent letters to some 400 landlords warning them to evict unlicensed cannabis outlets before marshals were sent in to do so.

Raids across five boroughs
And there have indeed been results on the ground. The most recent shortly followed the international day of cannabis celebration, April 20—which saw joyous crowds happily and openly toking in the iconic Greenwich Village park, Washington Square.

Four days later, the "Happy 420" balloons were still on display in the front window of the Myrtle Smoke Shop in Ridgewood, Queens, as investigators from the Task Force and cops from the 104th Precinct swooped in for a raid. Two store clerks were arrested, and the outlet was slapped with 63 violations, totaling some $45,000 in fines.

March 28 saw a major raid on Staten Island, with authorities reporting the seizure of nearly 100 pounds of cannabis, as well as 69 "magic mushroom candy bars."

Staten Island's conservative District Attorney Michael E. McMahon apparently acted with local cops independent of the Task Force, and took the opportunity to opine in a statement: "No one is naïve enough to believe that these establishments are financially thriving exclusively off of snacks and soda alone. Yet, with NYPD manpower at historic lows not seen in a generation and a toothless Office of Cannabis Management designed by idealistic and unrealistic legislators, a black market has been allowed to balloon across the five boroughs posing a threat not just to our children but to legitimate customers as well."

He added on Twitter, with photos of the haul: "Unlicensed shops selling illegal drugs & THC products are a stain on our communities & undercut law abiding businesses."

On Jan. 5, the Task Force raided several smoke shops on Manhattan's Upper West Side, seizing over $200,000 worth of "unregulated THC vapes, edibles, untaxed cigarettes, and flavored vapes." More than $16,000 in fines were issued to the offending outlets. City Council member (and former Manhattan borough president) Gale Brewer boasted that she "rode along" for the raids.

A Dec. 14 raid on a mobile dispensary dubbed Beach Boyz Budz in the Queens neighborhood of Rockaway Beach similarly became a politician platform. Councilmember Joann Ariola was on hand as the two men operating the van were arrested—charged with criminal sale of cannabis in the second and third degrees, and criminal possession in the third degree.

"Crime does not pay in District 32," said Ariola. "The owners of this unlicensed operation were thumbing their nose at local law enforcement for months as they peddled their goods." Queens District Attorney Melinda Katz added: "Stores, trucks and other outlets currently selling recreational marijuana are doing so illegally." (This was just before the city's first licensed outlet opened.)

This was just as the Task Force was beginning its work, and over the past two weeks, the Sheriff's Office had announced more than 600 pounds of cannabis confiscated in raids on unlicensed outlets across the city's five boroughs.

Gov. Hochul has also unveiled a "Why Buy Legal New York" media campaign to encourage New Yorkers to only purchase from licensed dispensaries—emphasizing "the potential health risks associated with purchasing cannabis products from unlicensed businesses and why regulated cannabis products are safer."

Is the crackdown itself illegal?
However, there was a little glitch to the well-publicized crackdown, which unfortunately won little media coverage. The New York City Deputy Sheriff's Benevolent Association on Feb. 2 wrote a letter to Corporation Counsel, the mayor's legal office, demanding clarity on how the Sheriff's Office has authority to carry out cannabis raids.

"We have been unable to find any legislation related to the inspection of unlicensed retail locations, or any cannabis legislation mentioning the Sheriff as an enforcement officer," the letter stated.

The Sheriff's Office, an arm of the city's Department of Finance, is officially authorized to inspect stores that sell cigarettes or tobacco, to ensure compliance with tax and licensing requirements. The city regulations establishing its powers have not been updated to include cannabis.

There may a much more fundamental legal catch at work, however. While official press releases treat "unlicensed" and "illegal" as basically synonymous, many of the unlicensed dispensaries maintain that they are actually operating within the law—parsing the meaning of the word "sale." If no profit is made on the cannabis transfer, and the real money is made on club membership fees, it is not a "sale" under New York state law. Outlets operating on this model have not been touched by the crackdown. The most prominent, Empire Cannabis Clubs, still operates three locations around the city—openly.

A bill by Liz Kreuger, the same Manhattan state senator who shepherded through legalization in 2021, would close this "loophole" (a word rejected by the cannabis clubs). But it hasn't passed yet.

Empire Cannabis also pledges that all its products are lab-tested, and that standards are being developed for the unlicensed sector's self-regulation.

Not just cops, but also robbers
In addition to the pressure from law enforcement, New York's unlicensed cannabis operators face another challenge—they are apparently being targeted by the city's increasingly audacious criminal element.

On Jan 18, a worker was shot in the leg in an attempted robbery of the Smoke City store on Ninth Ave. in Manhattan's Hell's Kitchen. Media reports were unclear on whether the establishment was selling cannabis or just pipes, papers and such. But it was only the most recent of three such incidents that month.

On Jan 4, an employee was shot in the lower back and gravely injured during an attempted robbery of Exotic Convenience smoke shop on Manhattan's Lower East Side. The shop was apparently selling bud and edibles as well as paraphernalia, and is located on Clinton Street, a neighborhood hub for unlicensed cannabis sales.

And on Jan. 11, the Rainbow Smoke Shop on Sixth Ave in Greenwich Village was the scene of stick-up by two robbers, one brandishing a handgun. Nobody was hurt, but the duo got away with an estimated $1,800 in cannabis candy, and some $600 in cash.

Is Hochul keeping her pledge on equity?
Meanwhile, the unfolding of the still very limited licensed market has also met with various controversies that are slowing things down.

On one hand, advocates are accusing Gov. Hochul of betraying her promises on social equity in the licensed market. Over a year ago, Hochul announced that those who had been impacted by a past cannabis-related criminal conviction in New York state would be the first to get retail licenses.

Yet the state's first licensed dispensary that opened Dec. 29, at a primo location on Broadway and Astor Place in the East Village, is run by a nonprofit organization, Housing Works. It does indeed do good work, advocating for housing and healthcare for people living with HIV-AIDS. However, 28 holders of licenses slated for entrepreneurs with past pot convictions were still stuck in what The City news site called a "bureaucratic holding pattern." Specifically, the Office of Cannabis Management was tweaking its regulations on what kind of storefronts they could lease—and applicants complained about lack of communication and clarity.

A month later, the second licensed outlet opened on Bleecker Street, a main drag of Greenwich Village. Evocatively named Smacked! Village (the exclamation point is mandatory, apparently), it is indeed owned by an African American man with a prior cannabis conviction, Roland Conner.

The Smacked! store is to receive support from the Social Equity Cannabis Investment Fund, a joint venture of the state Dormitory Authority and private partner Social Equity Impact Ventures LLC. Among its leaders are former basketball player Chris Webber, tech entrepreneur Lavetta Willis, and former city comptroller William Thompson. But the $200 million slated to support equity applicants statewide through the Fund has also been held up by bureaucratic inertia—specifically, the pubic and private partners being unable to reach final terms.

At the same time, plans to open a first dispensary in Harlem are being held up by a legal challenge brought by a neighborhood business alliance. The 125th Street Business District Management Association brought suit in state court April 26, seeking to block the opening of an outlet on West 125th Street, across from the historic Apollo Theatre—Harlem's cultural heart. The challenge argues that the process regulators use to choose dispensary locations is improperly opaque.

"This is a naked, intentional and bold attempt to avoid community opposition," the lawsuit charges. It argues that the 125th Street location is "irredeemable," saying it would add to the crime, congestion and "open drug use" already upsetting merchants in the area.
Brooklyn back in the game —for now
In some good news for would-be entrepreneurs, the federal Court of Appeals for the Second Circuit in Manhattan on March 28 narrowed a temporary restraining order that had blocked licensed dispensaries from certain designated areas of New York state. The appeals court ruling allows dispensaries to finally open in Brooklyn, as well as the Mid-Hudson region, Central New York and Western New York (including the state's second city, Buffalo). The Finger Lakes region remains barred, for the moment.

This means 108 dispensary licenses in those administrative regions no longer under the injunction may finally start to move ahead. But 18 licenses in the Finger Lakes remain in legal limbo.
The case was brought by a would-be entrepreneur with a past cannabis conviction in Michigan, who argued that New York's equity measures favoring those only with in-state convictions violate the US Constitution's interstate commerce clause. However, many smelled a ploy by out-of-state money to break into the Empire State's lucrative market—even if it means undermining the state's equity program.

And while this case remains pending, there are other legal challenges in the works. A group called the Coalition for Regulated & Safe Access to Cannabis brought suit in state court March 16 against the Office of Cannabis Management. The coalition represents large outfits already licensed in New York under the medical marijuana program and now seeking to enter the adult-use market. The complaint charges that the equity program is unconstitutional, and contributes to "neglect of the medical program." The coalition is calling on the state to immediately open up licenses to the public at large—with no priority for those impacted by past prohibition—and to crack down on unlicensed operators.

As of now, there are only nine licensed dispensaries operating statewide—five in New York City (four in Manhattan and one in Queens), and one each in Albany, Schenectady, Binghamton and Ithaca. So, crackdown notwithstanding, the licensed sector still has a very long way to go to catch up with the unlicensed guerilla capitalists—and the obstacles still abound.

Cross-post to Cannabis Now


Photo: Global Ganja Report


Follow @GlobalGanjaRpt