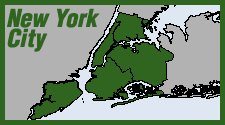 This week, the New York City Council called for the state of New York to pass legislation to tax and regulate cannabis, as well as to close loopholes in the state's decriminalization law that allow arrests for small quantitites to continue. As part of its State Budget and Legislative Agenda for the 2015-2016 legislative session, the Council urged the state legislature to pass both the Marijuana Regulation and Tax Act (MRTA) and the Fairness and Equity Act. Council Speaker Melissa Mark-Viverito announced her support for cannabis legalization in November, but this marks the first time that the issue has been part of the Council's official legislative agenda.
The Fairness and Equity Act—sponsored by Sen. Daniel Squadron and Assemblyman Robert Rodriguez—would amend New York's 1976 decriminalization law. The Council said that the Act would "end the unnecessary and disproportionate arrests of Black and Latino New Yorkers by ensuring that possession or sharing of small amounts of marijuana can never result in a criminal penalty."
The MRTA—sponsored by Senator Liz Krueger and Assemblymember Crystal People Stokes—would effectively end cannabis prohibition in New York state, creating a system to regulate, control, and tax marijuana in a manner similar to alcohol for adults 21 years of age or older. The Council noted that the MRTA would "would reduce the racially disparate impact of existing marijuana laws and end the cycle of branding nonviolent New Yorkers as criminals," while generating millions of dollars in new revenue and saving millions of dollars in criminal justice resources each year.
Other priorities in the Legislative Agenda include passage of the DREAM Act, allowing young undocumented immigrants to receive state tuition assistance; instant runoff voting; paid family leave; and measures to protect affordable housing and combat human trafficking. (Queens Gazette, March 25; Drug Policy Alliance, March 20)