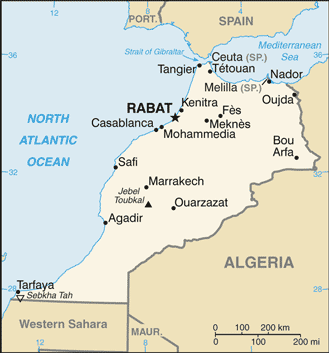 The United Nations Office on Drugs and Crime (UNODC) last month issued its World Drug Report 2019—its 22nd annual survey of production, trafficking and eradication and enforcement efforts around the world. In addition to providing figures on cocaine and opiates, the report seeks to quantify the amount of cannabis cultivated in each producer country.

Over the past decade, the report has consistently placed Morocco in first place for illicit cannabis production (which of course accounts for the overwhelming majority of global production, even now). This is a title the North African country now retains.
There is a lag-time in the UNODC reports, as they are based on the most recent available figures—the 2019 report draws on data collected between 2013 and 2017. The figures for each country are based on the data available, which don't always match up—that is, total yield in harvested marijuana, plants eradicated, area eradicated, or area estimated to be under cultivation. Some 135 countries around the world are said to be producing cannabis based on these indicators.

By more than one indicator, Morocco is in the lead. Some 37,000 tons are said to have been produced each year in 2016 and 2017, when "herb" (bud) and "resin" (hashish) are taken together. A surprising runner-up for those countries for which the estimate of total production is available is the small ex-Soviet republic of Moldova, which registered 10,000 tons produced in 2014. Next in line was the more predictable Mexico, with 6,574 tons produced in 2016.

Morocco was also found to have around 50,000 hectares under cultivation, of which nearly 400 were eradicated in 2016, and over 520 in 2017. This is by far the highest estimate for area under cultivation, although the area eradicated is surpassed by Mexico at nearly 5,500 hectares in 2016, Mongolia with a surprising 4,000 hectares in 2013, and Nigeria at nearly 720 hectares eradicated in 2016. In Colombia, some 135 hectares of cannabis were eradicated each year—dwarfed by the 170,00 hectares of coca leaf eradicated in the South American country in 2017.

No figures are available for total plants eradicated in Morocco. Here Paraguay leads, with more than 36 million plants claimed eradicated in 2017. The Philippines are a close second, with some 24 million plants eradicated in 2016. The United States saw over 5 million plants eradicated in 2016. Surprisingly, over a million plants were reported eradicated in China in 2016.

Cannabis was found to be the most widely used (illegal) drug worldwide, with an estimated 188 million people imbibing at least once annually.

Enforcement's heavy but futile hand
A June 29 report on the UNODC report from Morocco World News seems a little embarrassed by the findings, and takes great pains to emphasize the government's ongoing "heavy pressure" against cannabis—despite the fact that it is obviously not making much of a dent in production.

This pressure is only getting heavier. Last year, Morocco's government announced the start of "a multi-dimensional national strategy to fight illegal drugs." Although a role for "civil society" in this strategy is promised, it is clear that enforcement remains central. Several recent examples are given, just from the past weeks. On June 23, authorities near Zagora in the country's southern interior confiscated over 600 kilograms of "cannabis resin" (hashish, or possibly kif, the loose and unrefined resinous trichomes shaken from harvested buds). Two suspects were arrested.

On June 12, nearly 13 tons of resin were seized by police in Nador, a coastal city on the edge of the Rif Mountains, Morocco's cannabis heartland. Efforts against other illegal drugs are also noted. On June 16, authorities in the southern coastal city of Agadir confiscated 100 grams of cocaine and over 31,000 "psychotropic tablets," arresting three.

A government mouthpiece is cited boasting that more than 107,000 people were prosecuted for drug crimes in 2017, with this number expected to jump under the new "national strategy" in the coming years.

Morocco has also recently been stepping up joint maritime operations with Spain to intercept hashish smuggling across the Strait of Gibraltar to European markets.

Legalization efforts stalled
With cannabis already a pillar of its economy, you would think Morocco would be a natural candidate for legalization. Indeed, two years ago, the country's parliament was weighing proposals to legalize cannabis cultivation—at least for medical and industrial purposes. Proponents pitched this as the best way to daylight the cannabis economy, and wrest it away from criminal networks.

But in August 2017, Ilyas El-Omari, the main legalization advocate in parliament and a leader of the progressive opposition bloc, was abruptly forced to step down. The resignation came after King Mohammed VI gave a speech implying that he was behind the wave of angry youth protest that had rocked the Rif region in recent months.

Being fingered by the king as a subversive (even if not by name) has serious implications in Morocco, and El-Omari said he resigned in the interests of social peace. Since then there has been no progress on the cannabis legalization effort.

The bitter irony is that the Rif uprising was fueled by lack of economic opportunity—other than the contraband cannabis economy. Yet another instance of authorities tarring those advocating courageous solutions as rabble-rousers to discredit them. Morocco unfortunately seems about to head down the well-worn path toward drug-war dystopia—that already tread to diastrous results by Colombia, Mexico and the Philippines.
Cross-post to Freedom Leaf
Graphic: Perry-Castañeda Library Map Collection