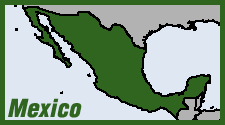 As harvest season approaches in northern Mexico's remote and rugged Golden Triangle, army and police forces are carrying out aggressive cannabis eradication campaigns. Commanders of the Fifth Military Region—straddling the states of Jalisco and Zacatecas—report that over the month of September, 882 marijuana plants covering an area of 115 hectares were burned in their fields, along with 284 opium plants covering 19 hectares. Military forces in Durango state gave a figure of 23 metric tons of harvested cannabis desrtroyed, as well as 500 combined marijuana and opium plants.
In Chihuahua, the Mixed Cells, coordinating army and state police forces, gave a figure of 16 tons of harvested cannabis eradicated in just one operation at Ejido La Joya in Bocoyna municipality—meaning the state total for the month is presumably much higher. (Notimex, Milenio, Oct. 6; El Norte, Monterrey, Oct. 5)
In very disturbing news from the northeast border state of Tamaulipas, police on Oct. 1 said they resuced 73 abducted migrants outside Reynosa after following their apparent captors to a house and hearing frantic calls for help. Of the victims, 37 were Mexicans, 19 were from Honduras, 14 from Guatemala and another three from El Salvador. They included women and minors, some of whom reported having been sexually abused. Three suspects were detained, who are believed to have seized the migrants on buses they stopped in the desert. Some of the victims had been held for up to four months while their captors demanded payment from their families, police said. Weapons and drugs were also seized at the home, including nearly 700 rounds of bullets, a hand grenade, and almost 10,000 kilograms (22,046 pounds) of what was "believed to be" marijuana. (Reuters, Oct. 2)
Northeast Mexico and the Gulf Coast have seen a wave of such incidents, in which migrants have been kidnapped en masse, and either held for ransom or threatened with death if they refuse to serve as cross-border drug-running "mules." Recent years have seen two massacres of abducted migrants in Tamaulipas, and efforts by relatives to identify those killed are still underway. Authorities rescued scores of abucted migrants in Las Fuentes, near the Texas border, earlier this year; similar operations were carried out in Reynosa in 2011: and in Villahermosa in 2010.
Cross-post to High Times