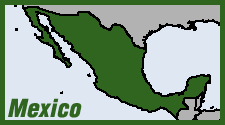 Amid growing concern about horrific human rights abuses by Mexico's security forces, Amnesty International on Sept. 4 issued a report, aptly entitled "Out of Control," harshly criticizing the Mexican government for its failure to adequately investigate allegations of torture and other "cruel, inhuman or degrading treatment" at the hands of the military and police. The report finds that such practices are condoned, tolerated or ignored by superior officers, prosecutors, judges and even official human rights bodies. The report calls on Mexico to enforce its own human rights laws—echoing similar demands made by Amnesty last year, urging the Mexican Senate to adopt legislation to protect against rights violations by the military. (Jurist, Sept. 5)
Instead, President Enrique Peña Nieto is creating new police forces. In addition to the Rural Defense Corps created from the paramilitary "self-defense" forces, primarily in Michoacán, authorities have just announced formation of a "National Gendarmerie" to help local police forces battle organized crime. The first units have just been deployed in Baja California, Jalisco and Tamaulipas—all states torn by narco-violence. Ominously, the Gendarmerie has also been mobilized in Chiapas—where there is comparatively little narco-violence, but where there is an ugly history of paramilitary repression of followers of the rebel Zapatista movement. But there has been much criticism in Mexico that the Gendarmerie's functions are ill-defined. Peña Nieto said defined it vaguely as to "strengthen the local public safety institutions." (UT San Diego, Sept. 5)
A deeper criticism is that adding to the police forces merely provides more firepower for the cartels to co-opt—until the underlying roots of the narco-violence are addressed. Since Peña Nieto took office in December 2012, there has been speculation that his government could rebuild the Pax Mafiosa that more or less kept the peace between the rival cartels under Mexico's old one-party state. Ironically, the opening of Mexico to a multi-party system with the 2000 election of Vicente Fox marked the beginning of the country's descent into its current nightmare of endless cartel warfare. Peña Nieto's election returned to power the Institutional Revolutionary Party (PRI)—the old political machine from the one-party era, when the Mexican government was widely believed to have brokered a peaceable turf division among the cartels.
Now, reports in the Latin American media (e.g. TeleSur, Reforma, Proceso) cite anonymous reports from US and Mexican intelligence sources that a high-level summit of cartel "capos" took place in June in Piedras Negras, Coahuila, just across the Rio Grande from Eagle Pass, Tex. The meeting was apparently aimed at dividing the country up into "plazas," or cartel spheres of operation, and allow business to proceed with a minimum of violence. Those in attendance apparently included Vicente Carrilo Fuentes AKA "El Viceroy"—successor to his late brother Amado "Lord of the Skies" Carrillo Fuentes as top boss of the Juárez Cartel. One of the Treviño Morales brothers, top commanders of the Zetas, is said to have been on hand, as well as representatives of the Jalisco New Generation gang and the Beltran Leyva Organization. Sanho Tree, a drug policy expert with the DC-based Institute for Policy Studies, told TeleSur: "It would be natural to find some sort of equilibrium in terms of plaza control as this reflects the desires of cartels to avoid turf wars.... From a citizen's point of view, it is better to have a couple of big players and alliances rather than a checker board of a bunch of smaller cartels fighting amongst each other. The only thing worse than organized crime is disorganized crime."
The notion that Mexican citizens and DC policy wonks alike are looking to the PRI's corrupt rule as the good old days is a pretty sobering thought.
Cross-post to High Times.