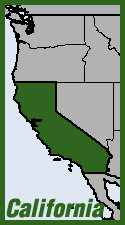 An Aug. 31 report on PBS NewsHour provides mixed indications on recent hype about the supposed presence of Mexican drug cartels in the cannabis trade of Northern California's Emerald Triangle—which has now been officially designated a High Intensity Drug Trafficking Area by the federal government. In the Mendocino National Forest, which has seen unprecedented raids this year, 10 Mexican nationals are among the approximately 100 arrested. Last year, Mendocino County saw a record-breaking number of armed confrontations during marijuana raids—"many with Mexican nationals with suspected links to drug gangs across the border." Two Mexican nationals were killed in last year's raids—one, named Mariano Fernández, reportedly after he aimed an "AK-47-type rifle" at a police SWAT team.
But Fernández's widow, Jessica Waggoner, who grew up in Mendocino, says the police overreacted—and that her late husband was just doing what nearly everyone does in that part of California. "Mariano didn't have any ties at all with cartel or gang or anybody, but to make money for his family," she said. "He was up there doing it by himself. He is not involved with any of that. And neither are any of the other guys that he was with."
On the other hand, NewsHour interviewed a former lonchero, or lunch man—defined as "a kind of foreman who is hired by a boss to deliver food and fertilizer, often to many sites at the same time." One anonymous Mexican grower in Mendocino said: "All of the Mexican cartels have people in the country. La Familia, the cartel from Juárez, the Zetas, they all have people in the United States. The cartels know what to do with the drugs. They carry it to another state or a city and distribute it. That's what they do."
Meanwhile CNN reports that 60 people were arrested Aug. 18 for their role in a Southern California crime alliance between members of a Mexican cartel and an Iraqi "social club." Since the beginning of "Operation Shadowbox" in January, officers from the DEA and El Cajon police department bought "large amounts of narcotics, pharmaceuticals, firearms and improvised explosive devices," El Cajon Police Chief Pat Sprecco said in a press release. Authorities seized more than 13 pounds of methamphetamine, 3,500 pounds of cannabis, $630,000 in US cash, three luxury cars, four "improvised explosive devices" and 34 firearms.