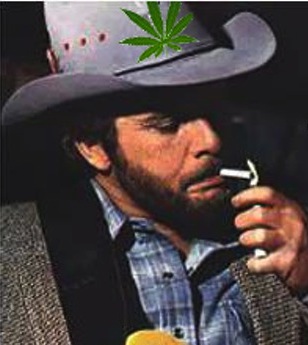 Country music legend Merle Haggard died at his ranch near Northern California's Lake Shasta on April 6, his 79th birthday. Haggard had the hard-living authenticity that helped make him an icon for the working folks of rural America. Of Okie stock, he grew up in Bakersfield and came up as a musician in the Central Valley town's local honkytonk scene—before actually turning 21 in San Quentin State Prison after a burglary conviction in 1957, as immortalized in his famous hit "Mama Tried." Unlike what the lyric said, however, he wasn't "doing life without parole." He was paroled in 1960, returned to his music career, acheived success, and was granted a pardon in 1972 by California's then-governor (and fellow conservative icon) Ronald Reagan.
Probably his best-known song was 1969's "Okie From Muskogee," the voice of an old-fashioned redneck aghast at the hippie counterculture:
We don't smoke marijuana in Muskogee
We don't take our trips on LSD
We don't burn our draft cards down on Main Street
We like living right and being free
Obituaries in the New York Times and Los Angeles Times note his later ambivalence about the song, but not that it was probably (in part, at least) intended as satire. Nor do they note that Haggard did a complete 180 where the herb is concerned. Just last year, Taste of Country website noted that on April 20 (4-20, of course) he had released a song and music video together with Willie Nelson entitled "It's All Going to Pot."
All the whiskey in Lynchburg, Tennessee
Just couldn't hit the spot
I've got a hundred dollar bill
You can keep your pills
'Cause it's all going to pot
A long way from Muskogee, eh? Haggard said as much, telling Taste of Country: "At the time I wrote 'Okie From Muskogee,' I didn't smoke. It was '68. I thought it was responsible for the flower children walking around with their mouths open. It was not so. But if a guy doesn't learn anything in 50 years, there's something wrong with him."

In a quote picked up by the Saving Country Music website, Haggard spoke to his old hometown paper, the Bakersfield Californian, about Willie Nelson's pot bust in 2010: "There are some people in this world that have no idea what the real deal is. I think it's silly to put someone in jail for [marijuana possession]. I think it's a threat to the pharmaceutical industry that you can go to the garden to grow something that might keep you from having to use Lipitor."
Image: Nashville Scene via Toke of the Town