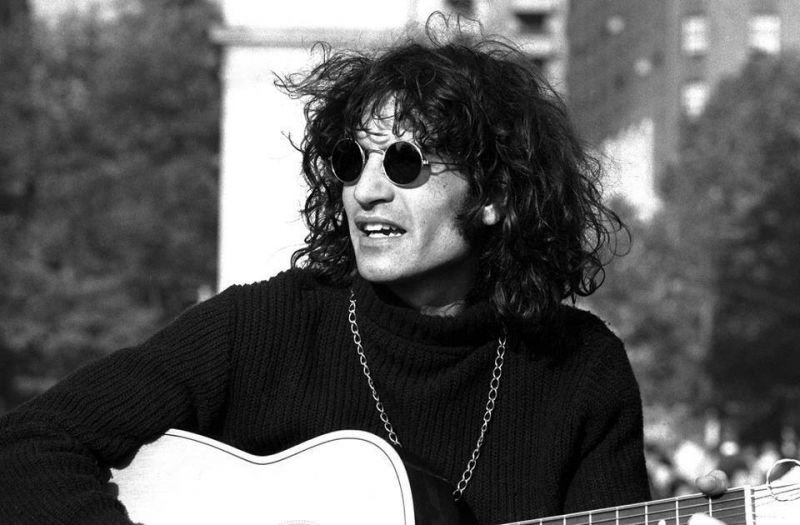 New York's most famous street musician, David Peel, passed away April 6 at the age of 73. Peel suffered a massive heart attack and went into cardiac arrest on March 31. He was being treated in the ICU unit at the VA Hospital in Manhattan. Friends gathered to pay respects to the singer, who lit up the Lower East Side with his humorous protest tunes since the late '60s.
David Rosario (he changed his name to Peel) was born on Aug. 1, 1943 in Brooklyn, NY. Much of his early history is shrouded in mystery. Peel spent two years in the Army from 1960-1962. After his stint in Alaska, Peel returned to New York and took a job on Wall Street. With the '60s countercultural revolution beginning to take shape, Peel moved to San Francisco, where he dove into the new hippie scene. When Peel came back to New York, he picked up a guitar and started writing songs and leading singalongs in Washington Square Park. .
Peel took the name because he was prone to smoking banana peels. "It looked like grass," he told High Times in 1977. "We kept it in vials and called it banana grass."
One day in 1968, Elektra Records A&R rep Danny Fields heard Peel and his gang of protestors singing in the park. In the 2015 documentary, Danny Says, Peel recalled: "I met Danny Fields in 1968, He brought me to Max's Kansas City and bought me a steak dinner. How could I say no to a steak dinner when I was used to eating pizza all my life on the street?"

Fields signed David Peel & the Lower East Side to a two-record contract. The first, Have a Marijuana, recorded live in Washington Square Park, hit No. 186 on the album charts and sold more then 600,000 copies. It featured his signature song, "I Like Marijuana," and had a pot plant on the cover. .
In the Fields documentary, Elektra founder Jac Holzman said about the album: "It was a big [middle finger] to the establishment."
Peel followed with The American Revolution in 1970, which featured several more songs about marijuana, but didn't sell as well.
One day in 1971, while he was playing in the park, as usual, a limousine pulled up and John Lennon and Yoko Ono got out. Activist Jerry Rubin and Village Voice writer Howard Smith had suggested they check out Peel. The famous couple did, and started to sing along and clap. This was the beginning of a relationship with Lennon that culminated with him producing Peel's next album, The Pope Smokes Dope, in 1972, and releasing it on the Beatles' Apple label.
Peel wore round sunglasses like Lennon and was mistaken for Lennon by the FBI, who once used a head shot of Peel instead of Lennon during the government's attempt to deport the Beatle on drug charges. He performed on stage with Lennon at the John Sinclair Freedom Rally in Ann Arbor, Mich. in Dec. 1971 and on The David Frost Show in 1972. ..
On his Some Time in New York City album in 1972, Lennon sang about Peel on the song, "New York City." Lennon once said about Peel: "He can't sing, or he really can't play. Picasso spent 40 years trying to get as simple as that."
In 1974, Peel started his own label, Orange Records. He released several dozen albums until Give Hemp a Chance, his last, in 2015. In 1995, he recorded a version of "I Like Marijuana" with the 360s for the benefit album, Hempilation: Freedom Is NORML. Also in 2015, Technohead released a version of "I Like Marijuana" called "I Wanna Be a Hippie."
Peel appeared in several movies, including Please Stand By (1972), Medicine Ball Caravan (1971), Rude Awakening (1989), High Times Pot Luck (2002), Gonzo Music Diaries, NYC (2005), The US vs. John Lennon (2006) and Danny Says (2015).

From CelebStoner, April 6
Photo via Chris Flash