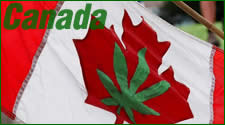 Vancouver's "Prince of Pot" Marc Emery, extradited from his native Canada, pleaded guilty in US District Court in Seattle on May 24 to conspiracy to manufacture marijuana. As part of a plea bargain, Emery, 52, must serve five years in prison for selling seeds to US customers through his business, Marc Emery Direct. He will remain in custody at the Federal Detention Center at SeaTac until sentencing.
Emery's wife, Jodie, said the deal is the best of his limited options. "It's unfortunate that a five-year sentence is what we want for Marc, but the alternative was at least 30 years and up to life if it went to trial," she told the Vancouver Sun. "But while he's gone, he'll be there to demonstrate the insanity of this war on drugs."
US attorney Jenny Durkan said Emery is getting his just deserts. "Today, Marc Emery acknowledged he broke the law," Durkan said in a press release. "Seeds from Marc Emery's business were found at grow sites across the US. Mr. Emery made millions of dollars promoting and facilitating marijuana grows in the U.S. with no regard for the age or criminal activities of his customers. The rule of law requires accountability. A five-year prison term will hold Emery accountable for his choice to ignore the law."
Emery claimed to have made about $3 million a year selling seeds, much of it going to political causes. On multiple occasions in 2004 and 2005, he sold seeds to an undercover DEA agent, the US Justice Department claims.
Co-defendants Michelle Rainey and Gregory Keith Williams pleaded guilty last year and were sentenced to two years probation. (Vancouver Sun, May 25)
Photo by PhotoPhreak