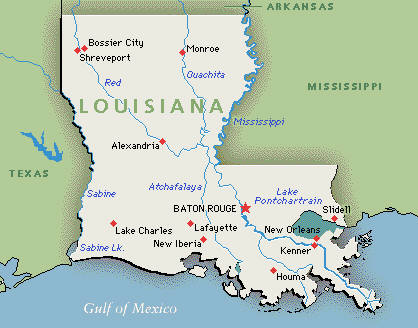 It seems positively surreal that in the same USA where states like Colorado and Washington are legalizing cannabis, states like Louisiana are sending hapless souls up the river for possession of less than ounce—but this is indeed the case. New Orleans public interest attorney Bill Quigley in a Sept. 23 piece on the website Common Dreams notes the case of Corey Ladd, 27, a local man who on Sept. 24 was sentenced by a city criminal court to a full 20 years of "hard labor" at a state facility for holding 15 grams—that is, just slightly over half an ounce.
The catch is that he was a "multiple offender." In Louisiana, you can get up to six months in jail for first cannabis conviction, up to five years in prison for the second—and up to 20 years in prison for the third.
In reporting this egregious case, Quigley notes the recent study by the American Civil Liberties Union (ACLU) finding stark racial disparities in cannabis arrests natiowide. Louisiana certainly isn't interested in getting better. Citing ACLU stats, Quigley notes that Louisiana arrests about 13,000 people per year for cannabis, 60% of them African Americans, and over 84% for possession only. Yet Louisiana's population is only 32% Black. This disparity makes it the 9th most discriminatory state nationwide.
In realted news, the San Francisco Chronicle's cannabis-friendly Smell The Truth blog on Aug. 29 noted "a rare bit of justice for the victim"—a New Orleans police officer who shot and killed an unarmed young man during a 2012 marijuana raid will serve a four-year sentence for manslaughter. Officer Joshua Colclough was part of a cannabis-related raid on a New Orleans home in March 2012 when 20-year-old Wendell Allen appeared shirtless and unarmed at the top of a staircase. Colclough shot and killed Allen, a recent college graduate. Colcough later resigned from the force, pleaded guilty to manslaughter, and began serving a four-year sentence last month.
Louisiana needn't feel lonely. Drug War Chronicle tallied 63 "drug war" deaths nationwide in 2012. Eight of the dead were law enforcement officers. Of the 55 civilian deaths, only two resulted in an officer being charged.
And the good news is that even in Louisiana there is growing awareness of how out of wack this situation is. The New Orleans Times-Picayune on Sept. 5 cited a recent poll by Public Policy Polling in which 64% said they are against the strict penalties for repeat offenders, and more than half said they would favor a simple $100 fine for possession of an ounce or less. The poll results were released three months after lawmakers in Baton Rouge failed to pass legislation to lessen penalties for repeat offenders. Maybe the case of Corey Ladd will tip the balance in the state house towards humanity and rationality.
Cross-post to High Times

Image from Greenwich Mean Time