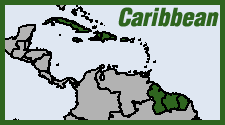 Jamaica's Justice Minister Mark Golding says his office is preparing an initiative to legalize cannabis in the island nation—pointing to the successful state initiatives in the US, traditionally the chief opponent of such efforts by Caribbean countries. "The Ministry of Justice is far advanced in developing a Cabinet submission with a view to reforming the laws relating to ganja," Golding told Jamaica's The Gleaner Oct. 7. "We have been working on that for some time now, and it's at an advanced stage, so Cabinet will get the opportunity to consider our recommendation and we will see whether the Cabinet is minded to move forward in the way that we have proposed."
More then 10 years ago, a National Commission on Ganja—chaired by the late Barry Chevannes, a revered scholar of Jamaican folk culture—brought back findings that legalization should be explored. They were roundly ignored, but Golding thinks times have changed. "In light of international developments, particularly in this hemisphere, particularly the United States, the situation has changed. I think it's an appropriate time for us to look at reforms in this area," he told The Gleaner.
AP reported Sept. 24 that Jamaican lawmakers had opened debate on a proposal to decriminalize possession of personal quantities of cannabis. No bill has been drafted or vote scheduled, but the notion of a daylighted cannabis industry as a boon for the island's struggling economy is being treated with growing seriousness. Some lawmakers complained that current law results in about 300 young men receiving criminal records each week for possessing personal quantities of ganja, creating a growing pool of unemployable youth.
"There is no doubt that ganja can have harmful effects on an individual. But this does not warrant criminalization of thousands of Jamaicans for their personal choice and use, some for reasons deep-rooted in culture," said lawmaker Daryl Vaz, a former information minister. Minister of State for Tourism & Entertainment Damion Crawford, himself the son of a Rastafarian, agreed: "For personal use, the punishment of a criminal record is too much."
Cross-post to High Times