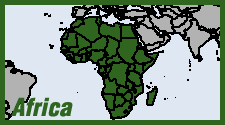 The brutal Boko Haram rebels are gaining ground at a frightening pace in northwest Nigeria, even mounting a bloody attack this week on the region's major city, Maiduguri. Reports are mounting that the exremist movement is funding its insurgency by exploiting Nigeria's strategic place as a crossroads of the global narco-traffick. BBC News on Jan. 25 asked "How have Nigeria's militants become so strong?" It cited the findings of the International Crisis Group that Boko Haram "has forged ties with arms smugglers in the lawless parts of the vast Sahel region." Plenty of its arms (including tanks and armored vehicles) have been plundered from the Nigerian army itself. But plenty more are thought to have come from Libya, where arms depots were looted when Moammar Qaddafi's regime was overthrown in 2011. Trafficking networks have been moving that plundered war material across the Sahel and Sahara, integrating the traffick into routes already established for moving drugs and other contraband between West Africa, Europe and Asia.
As for recruiting fighters, Boko Haram is conscripting villagers at gunpoint (sometimes exploiting ethnic loyalty among the Kanuri, the group to which rebel leader Abubuakar Shekau belongs). But for special operations, they are "relying on criminals and thugs, paying them for attacks, sometimes with a share of the spoil."
The media in India are hyping claims that the Boko Haram dope-for-guns pipeline is being overseen by Dawood Ibrahim, a top Indian drug lord who has been linked to terror attacks in Mumbai in 1993 and is believed to be hiding in Pakistan. DNA India in July 2014 wrote that "intelligence inputs indicate Dawood's younger brother Anees Ibrahim travelled to Lagos in Nigeria recently and met Abubukar Shkau [sic], chief of Boko Haram." The report claimed Boko Haram is "targeting the lucrative drug market in India, exploiting the well-oiled network of the D-gang spread across the country." D-Gangs are the police name for drug gangs in the orbit of Dawood Ibrahim. "Just like any other terror group, Boko Haram needs money to sustain itself," an anonymous senior police officer said. "By joining hands with the D-gang they plan to make money by smuggling drugs into India."
India has just launched a special multi-agency task-force to fight the D-Gangs, claiming the bust of a top "Dawood aide" in Lucknow on Jan. 23 who hs been wanted for 15 years on arms-trafficking charges. (Times of India, Jan. 24)
Cross-post to High Times