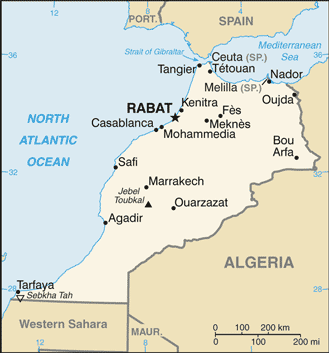 In the cold war between North African neighbors Morocco and Algeria, the latter has long used the status of the former as the world's top cannabis producer for propaganda, painting the conservative kingdom as a drug menace to the greater region. Now the narco-baiting has exploded into a diplomatic flare-up.


Morocco World News reports that the kingdom's national airline, Royal Air Maroc, is preparing legal action against Algerian Foreign Minister Abdelkader Messahel after he publicly insinuated that it is smuggling hashish.
The Minister blurted during a meeting with business leaders in Algiers in October: "The Royal Air Maroc carries something other than passengers, and everyone knows it."
In case there was any doubt what he meant, Messahel went on to actually accuse Morocco of funding its development programs in sub-Saharan Africa with hashish proceeds. "Moroccan banks are money laundering hashish, that everyone knows," he said. "The leaders of so many African countries have told me this."
Morocco withdrew its ambassador to Algeria in protest of the remarks, only returning him to his post in late November.
The airline immediately responded in a statement, warning that "Royal Air Maroc intends to enforce its honor, that of its 4,000 employees and its 7 million passengers...using all legal means available at its disposal."
Africa Intelligence website now reports that Royal Air Maroc has hired two high-powered Paris attorneys to handle its defamation case. One, Ralph Boussier, has had plenty of experience on behalf of the Moroccan regime. He previously won a conviction against French daily Le Monde for having described Hassan II (Morocco's last king, who died in 1999) as the "leading exporter of cannabis."

In a less savory case in 2015, he defended Abdellatif Hammouchi, head of Morocco's Directorate General for Territorial Surveillance (DGST), who faced charges in France for alleged torture.

The rivarly between Morocco and Algeria actually came to armed conflict in 1963, when the two countries fought a "Sand War" over their disputed border. That was just a year after Algeria won its independence from France, and inciting fear and hatred of each other has helped both countries consolidate authoritarian regimes.

Things were just beginning to finally thaw between them a generation ago, when an ugly Islamist insurgency broke out in Algeria. In 1994, a bomb went off in Marrakesh, and King Hassan, nervous that the war in Algeria was spilling into Morocco, accused Algiers of involvement and kicked out its nationals. Algeria's ruling generals responded by sealing the border, which has remained shut ever since. Both sides have been building security walls, ditches and sand berms along the border—which has, of course, failed to stop the flow of contraband. Bootleg oil flows out of Algeria in exchange for Moroccan hashish.

Algeria continues to report dozens of arrests of hashish smugglers along the border in a typical month.

While Morocco has baited the Algerians as jihadists and Algeria has baited the Moroccans as narcos, increasingly both countries' official rhetoric invokes a unified narco-jihadist threat.
Cross-post to High Times
Graphic: Perry-Castañeda Library Map Collection