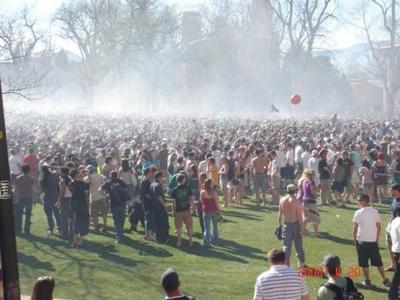 Gunfire erupted at Colorado's annual 420 Rally—the first since the state voted to legalize cannabis least year—injuring two people and scattering a crowd of thousands in Denver's Civic Center Park. A man and woman were shot in the leg, and a third grazed with a bullet. Both victims are in their 20s. They were taken to Denver Health Medical Center. Police asked attendees for possible photo or video footage of the shootings, and had no immediate motive. Witnesses described a jovial scene quickly turning to panic. Some thought firecrackers were going off, until a man fell bleeding, his dog also shot.
The attack recalled a similar shooting that left a police officer dead at a crowded jazz concert in Denver's City Park last summer. The 22-year-old suspect in that case pleaded guilty to second-degree murder and faces at least 16 years in prison. His attorneys said he was being pursued by gang members when he drew his weapon and fired. The 420 festival this year had seen extra security measures due to the Boston terror attacks. (Denver Post, Denver Post, AP, April 20)
Controversy over police tactics—although not violence—was also seen at last year's 420 Rally.
Photo of 2011 420 fest from Slumz.boxden.com