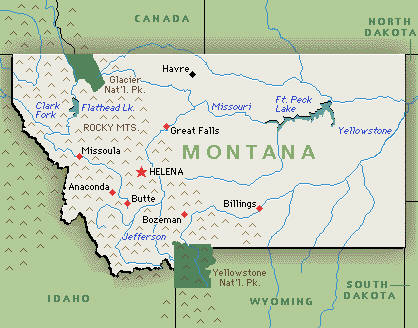 Voters in Montana approved a cannabis legalization initiative in 2020, which included language explicitly calling for expungement of past convictions. But the process has been meeting with some resistance from local courts—and plans for a special court to oversee expungement have been dropped.
Demands to wipe out past convictions for personal possession are increasingly central to cannabis legalization efforts, which have now borne fruit in some 20 states around the country.

But the process has met with unanticipated obstacles in several states. And Montana, alas, provides a case study in lowered expectations.

Possession of up to ounce of cannabis flower or eight grams of concentrate has been legal in the Big Sky State since the passage of Ballot Initiative 190 in November 2020, and an adult-use market officially came on line at the start of the current year. Home cultivation of up to four plants is also now allowed—or eight for registered medical patients.

The Missoula Current said this development represents a "shift of values" for the generally conservative state. "There's a lot of people who are stuck in the system for something they shouldn't be," the paper quoted one customer emerging a dispensary in Helena on New Years Day. "You see liquor stores and casinos on every block, it's kind of disconcerting that you could go home and smoke a plant and get arrested and have your life ruined."

As Montana Public Radio noted in November, the same enabling legislation that established a framework for legal sales—the Montana Marijuana Regulation & Taxation Act, or House Bill 170, signed by Gov. Greg Gianforte in May—also allowed for the resentencing of those convicted of low-level cannabis offenses, or expungement of their records entirely. A special court for this purpose was to be established, with a mandate to issue "plain language" rules to help citizens navigate the expungement process. State Court Administrator Beth McLaughlin said that the new expungement court should be implemented by the new year, along with the adult-use market.

But now McLaughlin says the state's judicial branch will likely forego creating a special court to clear records of cannabis convictions. The demand has been so low that local courts should be able to handle the workload, McLaughlin told Montana Public Radio on Jan. 19.

The stigma factor
Some analysis on the inauspicious start for the expungements program was offered by the Helena Independent Record on Dec. 31. It found that "the pace of requests hasn't met what the state anticipated, some seeking expungement are hitting snags, and defense attorneys say in certain places stigma has created roadblocks."

This last factor appears critical. The account offers several examples of progress being blocked by the "stigma against cannabis that lingers in some of the state's district courts."

Particularly egregious is the case of Paul Hagler of Richland County, on the state's eastern plains, who was busted in 2015 with a lowly 0.06 grams. At that time, this carried a maximum penalty of three years in prison, but he got probation instead. In February 2021—after Ballot Initiative 190 had passed—county prosecutors filed to revoke Hagler's probation and send him to prison. And in April, a district court actually sentenced him to five years—two years longer than what even the pre-legalization statute imposed.

In September Hagler petitioned the state Supreme Court to be released from prison pursuant to Initiative 190. The high court granted the petition after the state Attorney General's Office conceded that Hagler should be immediately released.

The justification for imposing the five years may have been that at the time of his arrest in 2015, Hagler had been on probation for a 2010 conviction. But the state's highest court nonetheless found that the sentence was improper. Actual expungement of the 2015 conviction remains pending before the (now hopefully chastened) county court.

Teal Mittelstadt, Hagler's attorney who challenged his district court sentence, said the case exemplifies how continuing bias against cannabis can still determine the outcome of cases in the local courts. "There is a stigma against cannabis," Mittelstadt told the Independent Record. "I cannot speak to the entire state, but in the counties I have practiced, it is present."

Exploiting the loopholes
Then there are, inevitably, loopholes that have been exploited to keep cannabis convictions on the record.

Daniel Rairdon was convicted in 2002 in Flathead County, which straddles the Continental Divide in the northwest of the state, for felony possession of eight cannabis plants. He got a three-year deferred sentence, and the case was closed in 2008. In January 2021, he petitioned for the charge to be expunged or redesignated as a civil infraction. But prosecutors argued he did not have written permission to grow from the landowner he rented from—a requirement for under the new law. A district court judge denied Rairdan's petition, and in September the state Supreme Court affirmed the district court's decision.
These cases seem to indicate that elements of Montana's judiciary have yet to catch up with the shift of values in the state. And that maybe leaving the expungement question up to the local courts is not the best path for living up to the spirit of Ballot Initiative 190.

Cross-post to FarmerFelon.com


Map by
GreenwichMeanTime