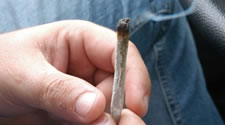 A Dutch court fined the owner of the Netherlands' biggest cannabis-selling coffee shop 10 million euros ($13.3 million) on March 25 for keeping more than the maximum tolerated 500 grams (18 oz.) on the premises. Owner Meddie Willemsen, tried along with 15 staff of the Checkpoint coffee shop in Terneuzen, also received a 16-week prison term, although he was given credit for having served this time after his arrest and released.
Checkpoint served up to 3,000 people a day before being closed last year. Police report finding 200 kilograms (440 lb.) of cannabis when they raided the coffee house.
The fine was lower than the 28 million that prosecutors had sought because of the "role of the authorities" in allowing Checkpoint to grow unchecked. "Checkpoint could not have expanded as much as it did without collaboration from the municipality of Terneuzen," a court statement said. The town, close to the Belgian border, put up road signs showing the way to the Checkpoint and built a nearby parking lot to reduce traffic congestion in town. (BBC News, March 25)
In a sign of a growing backlash to Holland's liberal cannabis policy, Police Chief Max Daniel told Radio Netherlands: "Suppose all the cannabis plants grown in the Netherlands were planted together, the resulting field would be as big as the province of Utrecht, about 1,500 square kilometers. Some plants are hidden in attics or in cornfields. Sometimes they are even underground in transport containers which are nearly impossible to discover."
Photo by prensa420